Have you been considering Sultan or Sultan Deluxe for your next project but wasn't sure which one to put in your basket?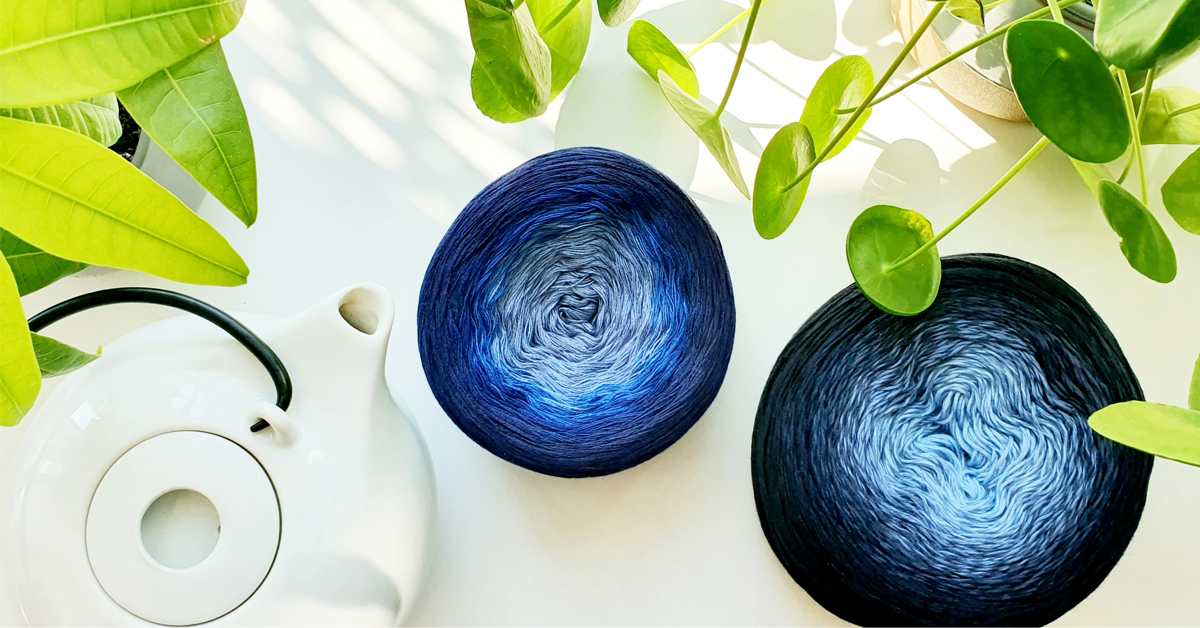 Sultan and Sultan Deluxe look pretty similar: they're both wound in large skeins and have magical colorways. Both yarns are also spun from 4 thin strands made from 100% cotton and have the same
weight, so it can be pretty hard to tell the two apart with the naked eye. But they are slightly different: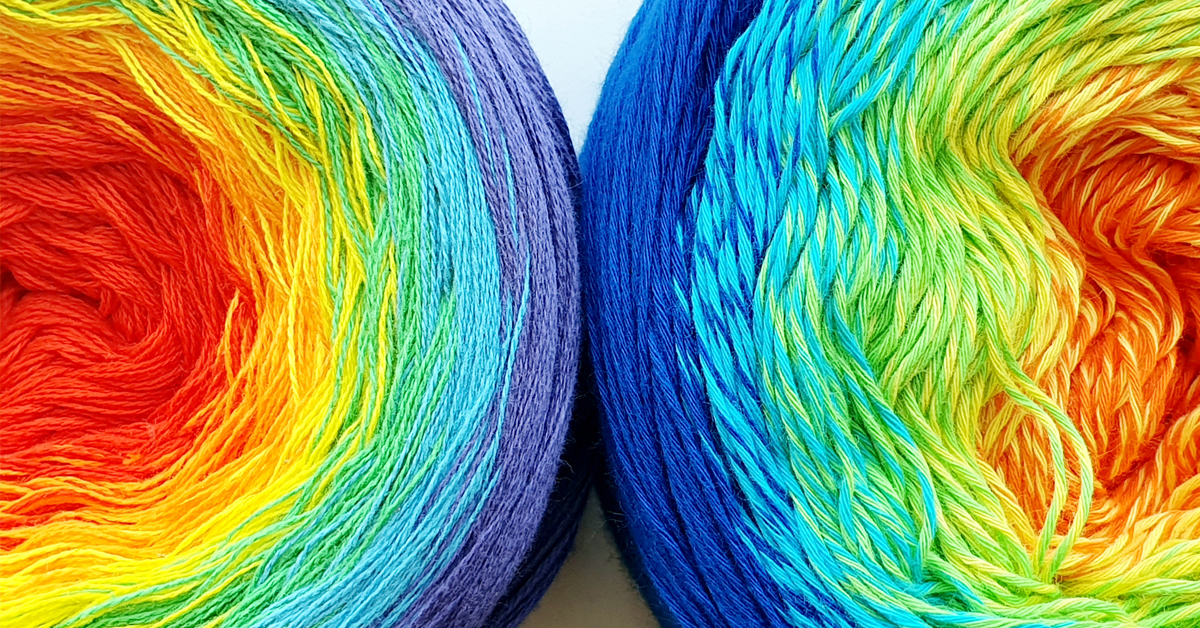 Sultan on the left, Sultan Deluxe on the right ☝
The yarns are spun in slightly different ways
One of the differences is how the strands are spun together – or rather, not spun together. Because while Sultan consists of four loose strands, the four strands in Sultan Deluxe are spun lightly together to make the yarn easier to work with.
The twist of the yarn gives Sultan Deluxe a fuller look and makes it easier to work with, especially if you're new to knitting or crocheting since the strands won't separate as easily.
However, both yarns have the same soft structure when knit up or crocheted. The cotton fibers in the yarn also make shawls, scarves, and blankets especially breathable and let them drape beautifully.
Sultan on the left, Sultan Deluxe on the right ☝
The way that the yarn changes color is also the same in both yarns. The long, gradual color changes happen by changing the color of one strand at a time. The shift from one color to another is made by tying the old color to the new one with a small knot.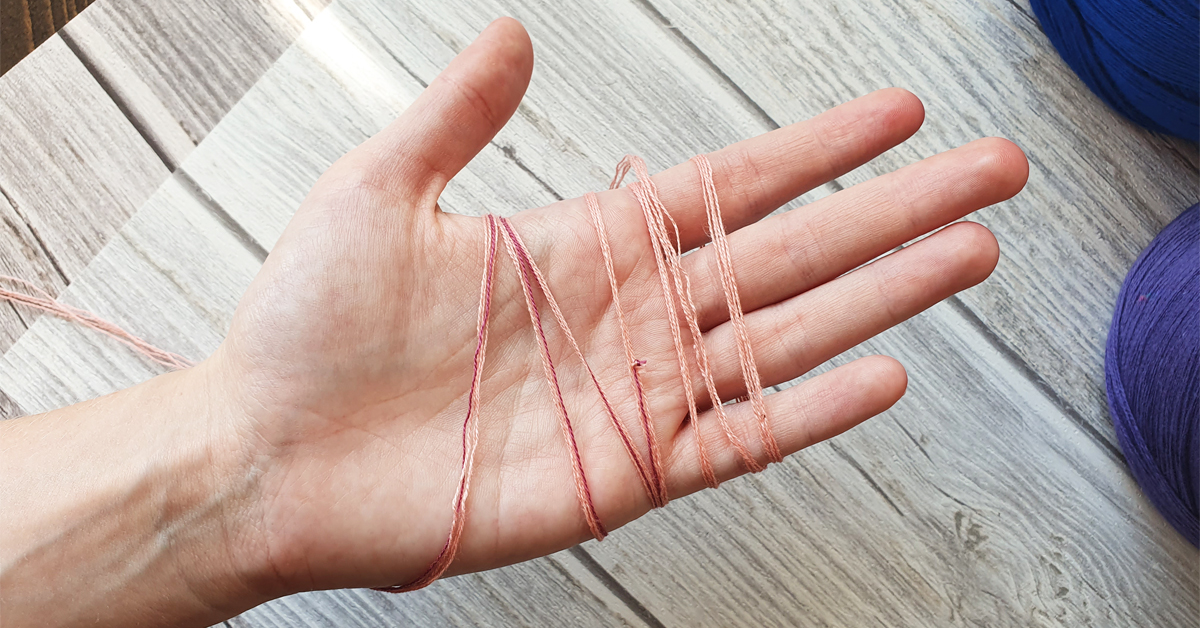 Changing colors this way is actually quite amazing because it gives you long, gradual color changes without the harsh shifts you often find in other yarns. These types of color changes really shine in larger projects like shawls, scarves, and blankets. You can find more examples of the color changes in our patterns.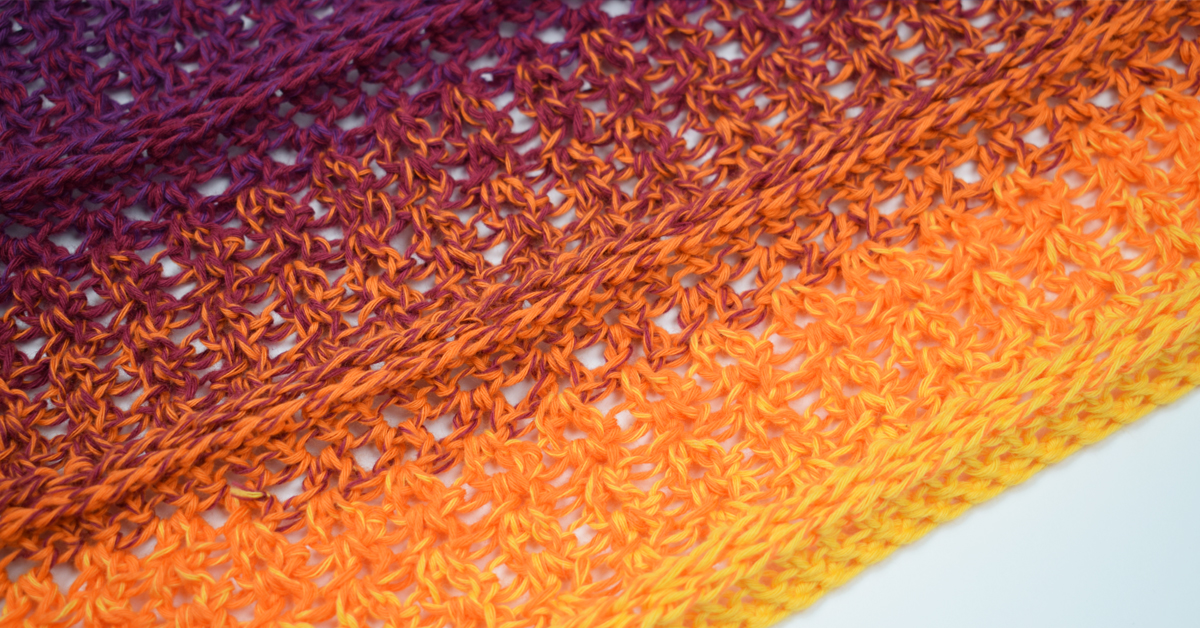 Running length – would you like 800 or 1000 meters?
Where Sultan skeins have a weight of 200 grams and a running length of approx. 800 meters, Sultan Deluxe goes a liiiiiiitle longer. Sultan Deluxe has a weight of 250 grams and no less than 1000 meters of pure fun.
Because of the longer running length and the slight twist of the yarn, Sultan Deluxe is a little more expensive than Sultan. But I promise you that the quality is top-notch in both yarns. We haven't cut any corners when it comes to the quality of the fibers! 😍
Get the best results from Sultan and Sultan Deluxe
If it's your first time working with these yarns, I recommend:
Running the yarn through a bead
As mentioned above, Sultan consists of 4 loose strands – strands that aren't spun together. When you're working with the yarn, the strands may start to separate on their way from the skein to your hand.
Before you start working with the skein I recommend running the yarn through a bead like this one to keep the strands together 👇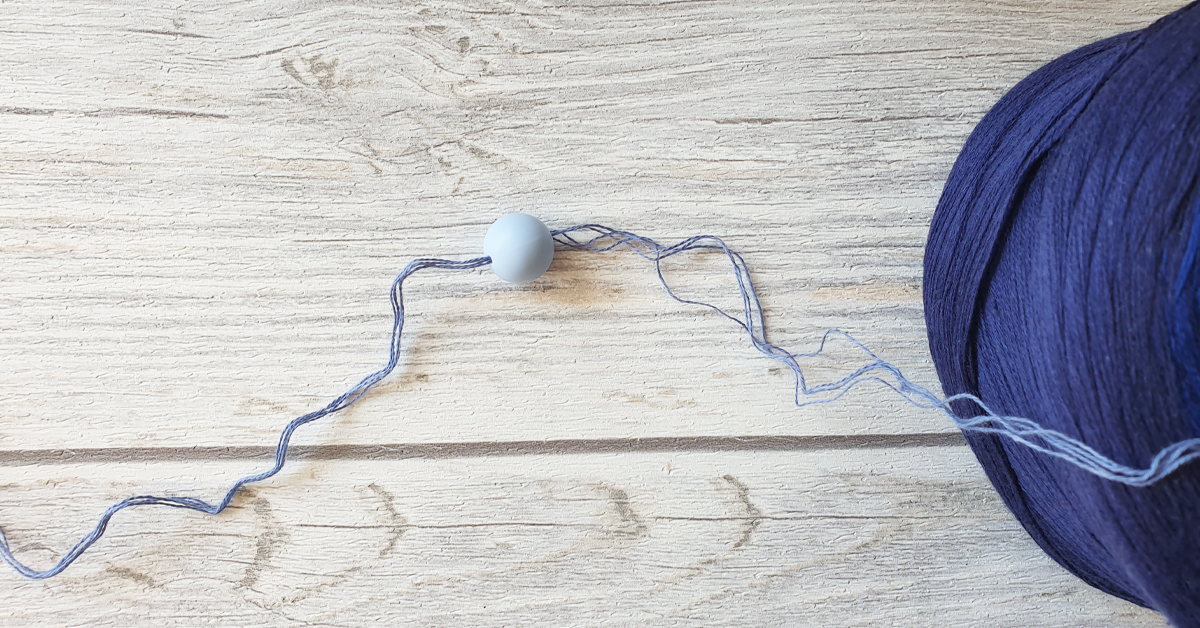 Have fun with the changing colors
Since the color changes are made using knots it's easy to separate, elongate, shorten, and change the color changes.
I, myself, am crocheting a large blanket that needs several skeins. Instead of using the skeins one by one, I've chosen to cut up the color changes and tie them together to get even longer color changes.
You can do the same by doing this:
Start with the first skein. When you reach the first color change, cut the yarn at the knot.
Now, grab the end of the yarn you're working with, tie it to the next skein, and continue with the new skein. Continue working until you've used up that specific color in all your skeins.
Now move on the next color in your skein and repeat the process.

Learn more about different knots here.
Would you like to extend one specific color? Then you should take a look at Twister. Like the Sultan line, Twister also has long color changes. And to go with it, we've made Twister Solid - the same yarn, just in solid colors that match the different shades in Twister.
Twister and Twister Solid are made from 55% cotton and 45% acrylic, which gives it an even softer and airier effect. Find Twister and Twister Solid her.

☝ Twister in the color Light Elegance (21), with Twister Solid in the corresponding colors (from left to right): Silver Grey (102), Light Grey (103), Natural white (101), Light Peach (136), and Dusty Rose (110)
We've written down all the different matching colors on the website. Just click on Twister and look at the bottom of the product description on our website.
Avoid tangles
Getting all tangled up can be fun, but not when we're talking about yarn. If you start your skein from the inside, you'll end up with a thin circle of yarn at some point that may collapse and create knots.
To avoid this, you can fill the whole as you go along with items like a bottle, a can, or anything else you think might work.
If you prefer to start your skein from the outside, you don't need to worry about it collapsing.
On the other hand, if you want to avoid the yarn rolling away from you, you can buy a handy little yarn holder/unwinder or yarn bowl. They're pretty AND practical ✨
Add that little extra touch
If the changing colors just aren't enough, you can use Sultan Deluxe Shine or Twister Glitter ✨ The yarn is just like Sultan Deluxe, but it also has a thin glitter strand spun with the other strands to give it an extra shiny effect when it catches the light.
The glitter strand is thin and flexible, so it isn't scratchy.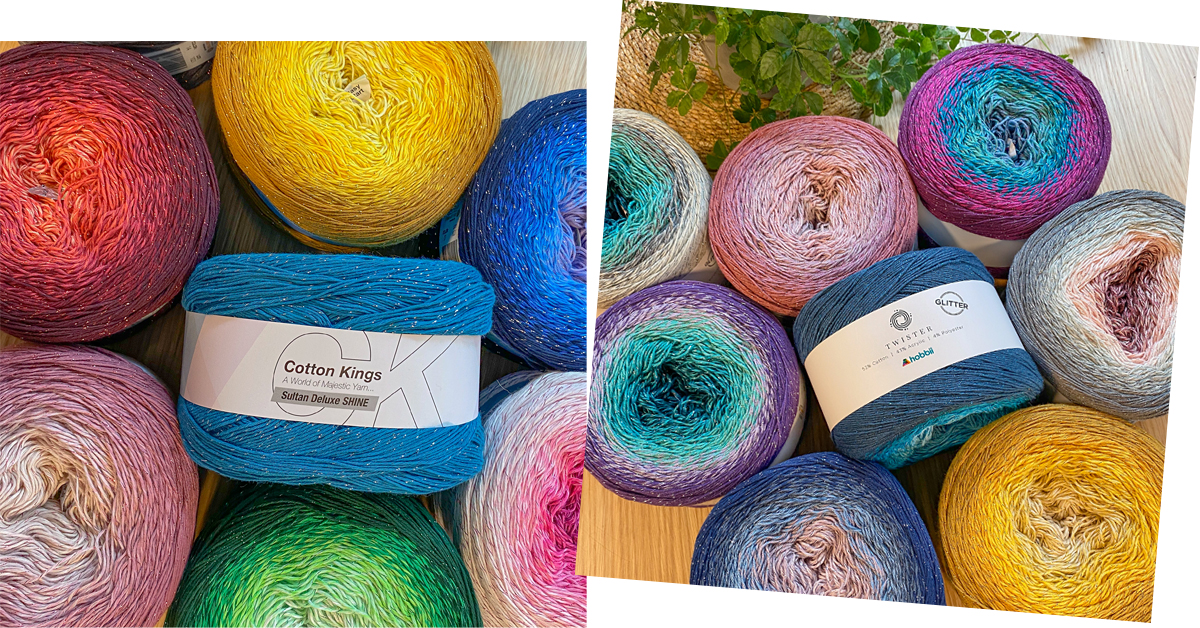 If you want to choose the color of the glitter strand yourself, you can combine Sultan or Sultan Deluxe with a strand of Glitter Deluxe instead. It's available in several beautiful colors from black and white to pink and several shades of blue and green.
Explore a whole universe of colors with our other lines
Didn't find the exact shade you wanted among Sultan, Sultan Deluxe, Sultan Deluxe Shine, or Twister?
Believe it or not, we have even more alternatives for you 🎉
Dahlia – yarn in all the colors of a flower garden
Dahlia is almost identical to Sultan but it comes in a very special line of colors. The Dahlia yarn is inspired by the Dahlia flower, which is available in a wealth of different colors.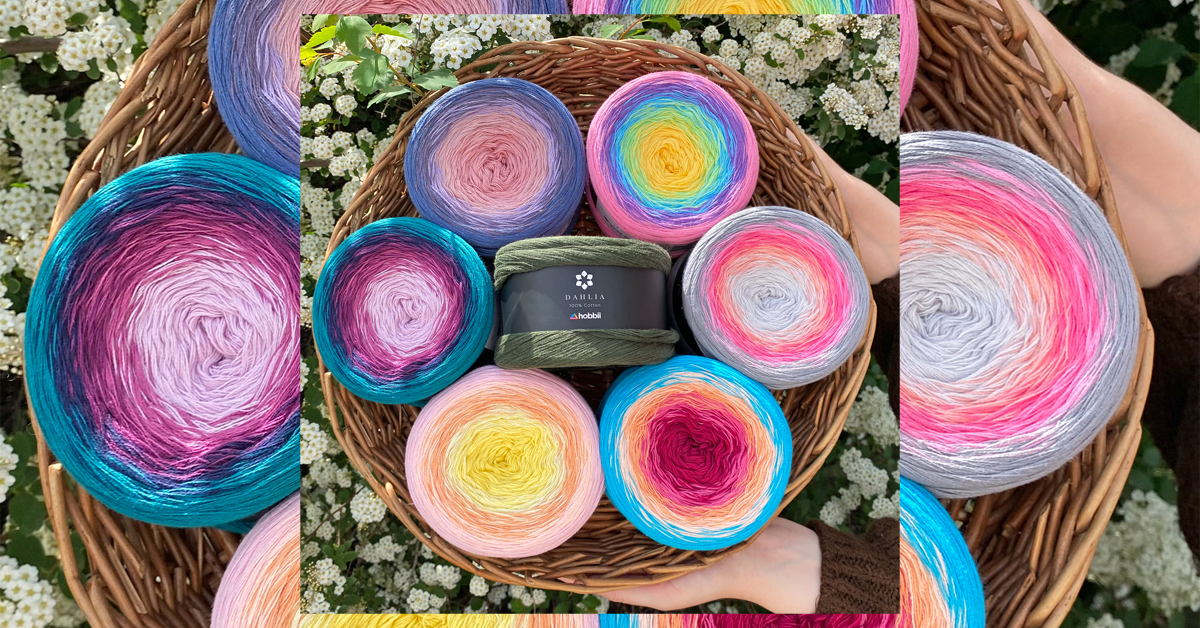 Azalea – yarn with a "shade-in-shade" effect
Where Sultan and Dahlia usually have several different colors in one skein, Azalea focuses on exploring one color so that all the different shades – from dark to light – get to shine.
Below, you see Homebush (03), Aurore (08), and Royal Command (06), where green, purple, and blue are the center of attention.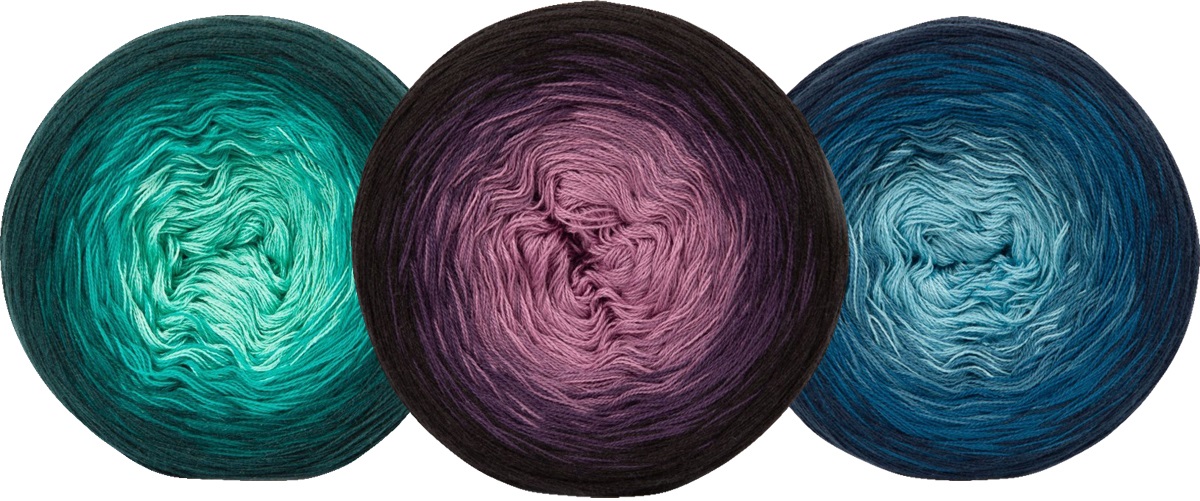 I hope you've been inspired and would like to start a new project after reading this. Remember, we have lots of amazing patterns that work with Sultan, Sultan Deluxe, Twister, Dahlia, and Azalea. All you have to do is get started 🏃‍♀️
Want to know more about the Sultan line or one of our other yarns? Ask away in the comments below 👇