"What do people need right now?" This is one of the central thoughts our talented designers Sys and Irene have used as the starting point for Hobbii's newest collection. Because in the wake of 2020 (which in many ways was a very different year for all of us) our designers have focused on what people need most right now: cheer and happiness.
While we're looking forward to better and brighter days where we'll finally be reunited, can meet face to face, and share great experiences with each other, we'll keep our excitement in check with knitting.
Happiness and cheer takes the form of bright colors and fashionable styles combined with retro details.
Retro can be described as a revival of previous fashion trends and plays a big part in creating a feeling of nostalgia and happiness in this collection. It's seen in details like the cute puff shoulders on the cardigan below 👇
Volume? Yes, please!
On the Savannah cardigan, the sleeves are pleated at the top. It adds volume and lots of focus on the shoulders. It catches the eye and almost becomes an accessory like jewelry or a bag. That's why this cardigan is great for a simple look with a pair of jeans, where the shoulders get to be the center of attention.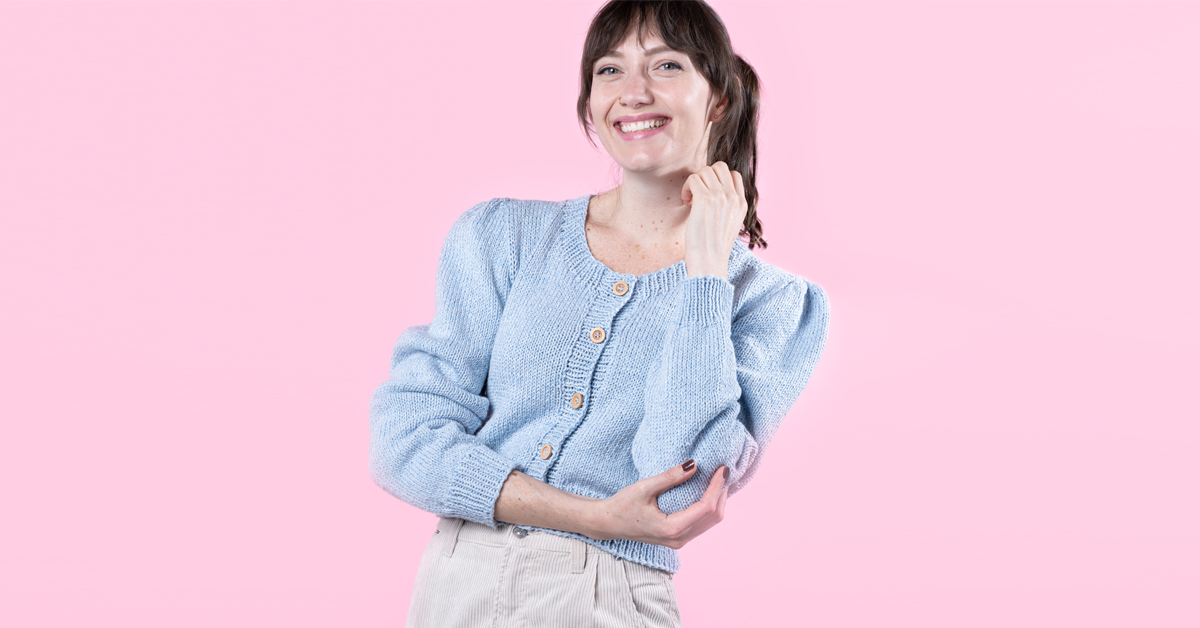 Tip: If you want to wear it as a party piece, you can add some pretty Bling Bling buttons and wear it with your favorite dress and a pair of sandals.
Never tried knitting puff shoulders before? Fear not! Accessibility is one of the keywords behind this cardigan and the entire collection.
"Anyone should be able to make these, even beginners," says Irene.
You can expect to see Savannah on our website in the near future. But if you can't wait to get started, we've already published the Monika sweater for the world to see. Here, volume meets the short, modern cut, ideal for high-waisted pants.
You can find the pattern here.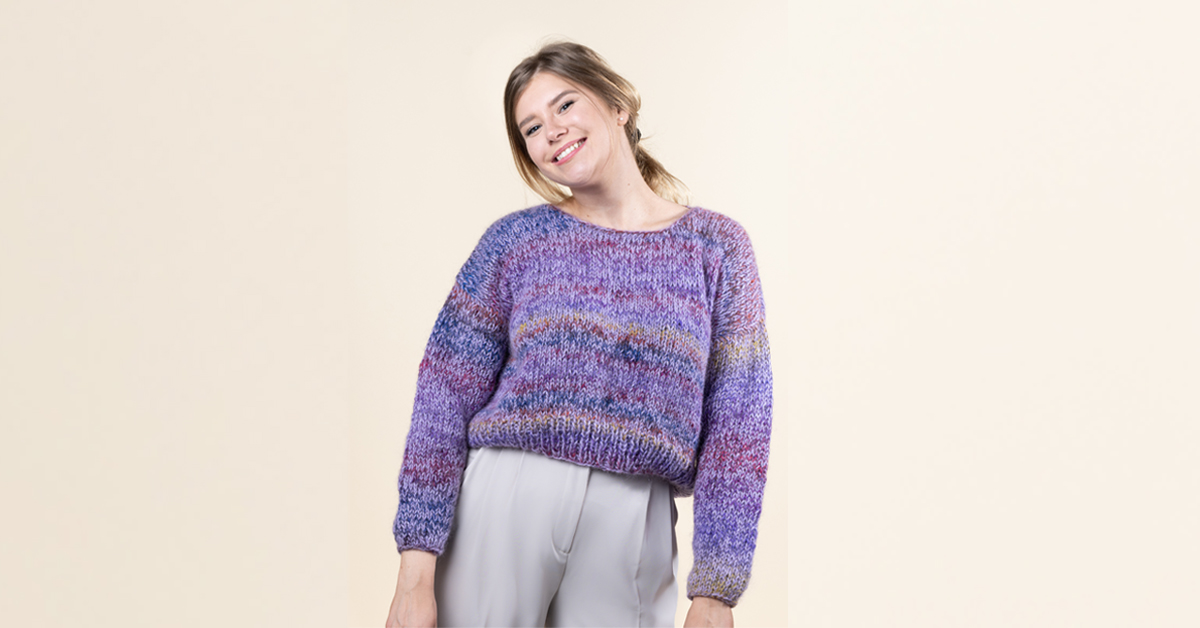 Meet Amalie
Amalie is a line in the collection that really stands out to me. The line consists of a dress, a pencil skirt, a top, and a cardigan.
I've spotted several knit pencil skirts and tight dresses in both fashion magazines and shops, and I just can't get enough of them. An especially beautiful detail here is the slits on the sides that allow you to show a little leg without sacrificing length.
I think the Amalie line is going to be an absolute favorite! The line is designed to be versatile and let you combine the pieces or wear them separately and styled in many different ways.
The skirt and dress have a tight silhouette combined with the texture of the knitting that balances them nicely between office and casual. They can be worn with anything from high heels to sneakers and chunky boots, and if you want to play around with some volume, you can combine them with an oversized jacket or sweater. The voluminous top creates a beautiful contrast with the tight-fitting dress and skirt.
In the photo, the skirt is knit in the color Light Purple (108), but you can easily make it in black, gray, or beige shades if you want to make sure that it never goes out of style.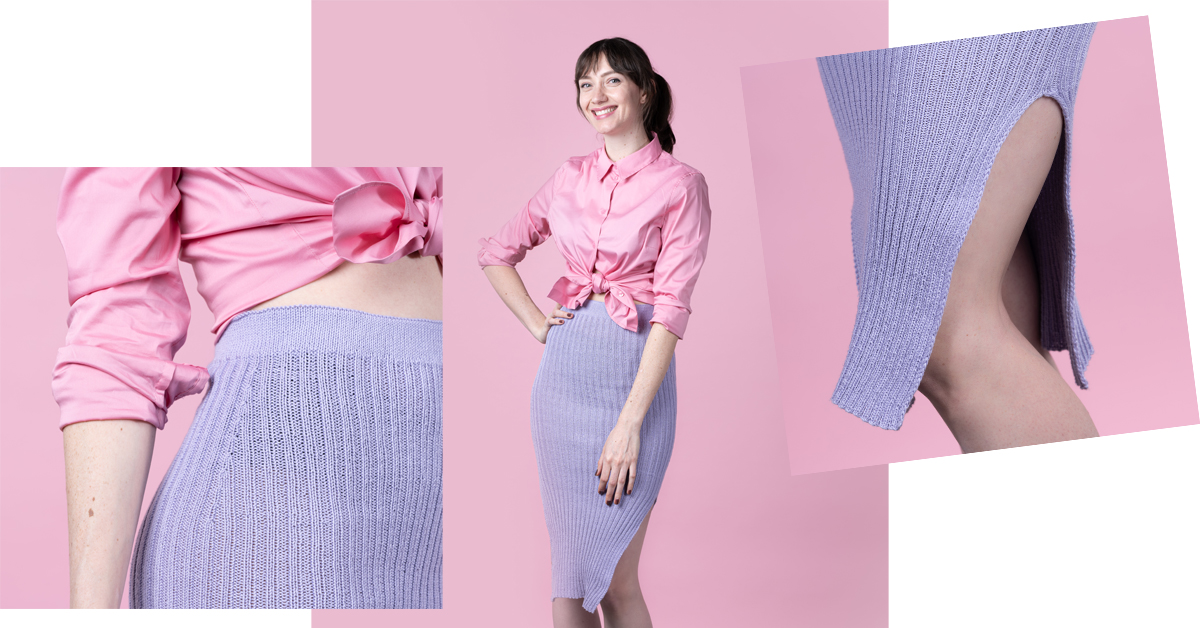 I'll probably end up making one in the new color Pineapple (152). Buuuuuut, I may end up making one in a nice neutral shade like Oak (138) or Dark Grey (104). After all, you can never have too many pencil skirts, right? 🤷‍♀️
Great news! You can already get started in the pencil skirt - it's already on our website. The dress, top, and cardigan are coming soon, so keep an eye on our page as well as Facebook and Instagram.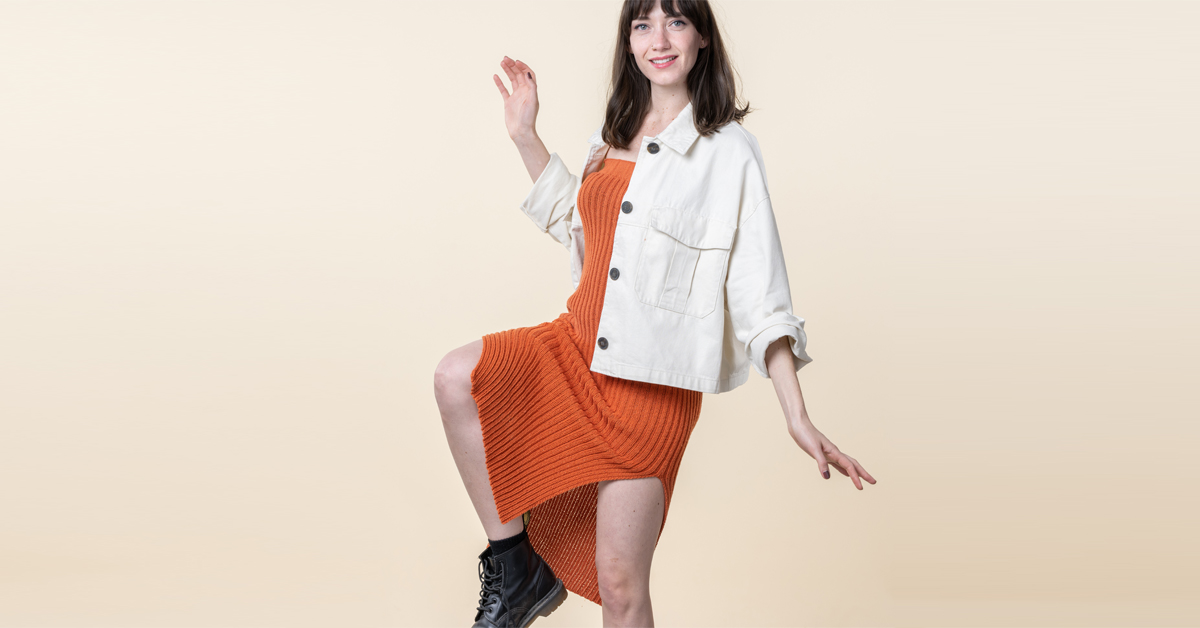 Sneak peek at the Amalie dress 👆🤩
If you prefer clothes with a little movement to them...
... the Laudy skirt may be the perfect choice for you. In contrast to the tight-fitting dresses and skirts that give you an air of city living, Laudy brings forth thoughts of green meadows and fresh air. Laudy drapes nicely and goes perfectly with a light summer top when you're going on a picnic in the grass.
Laudy is knit with Twister, a yarn made from 55% cotton and 45% acrylic. And that choice wasn't random. The combination of the breathable cotton and the light, flexible acrylic gives the fabric a light look that doesn't get too heavy.
"Cotton can get stiff. Acrylic makes it soft and lovely. And it's also durable and the colors stay clear, even after washing!" - Sys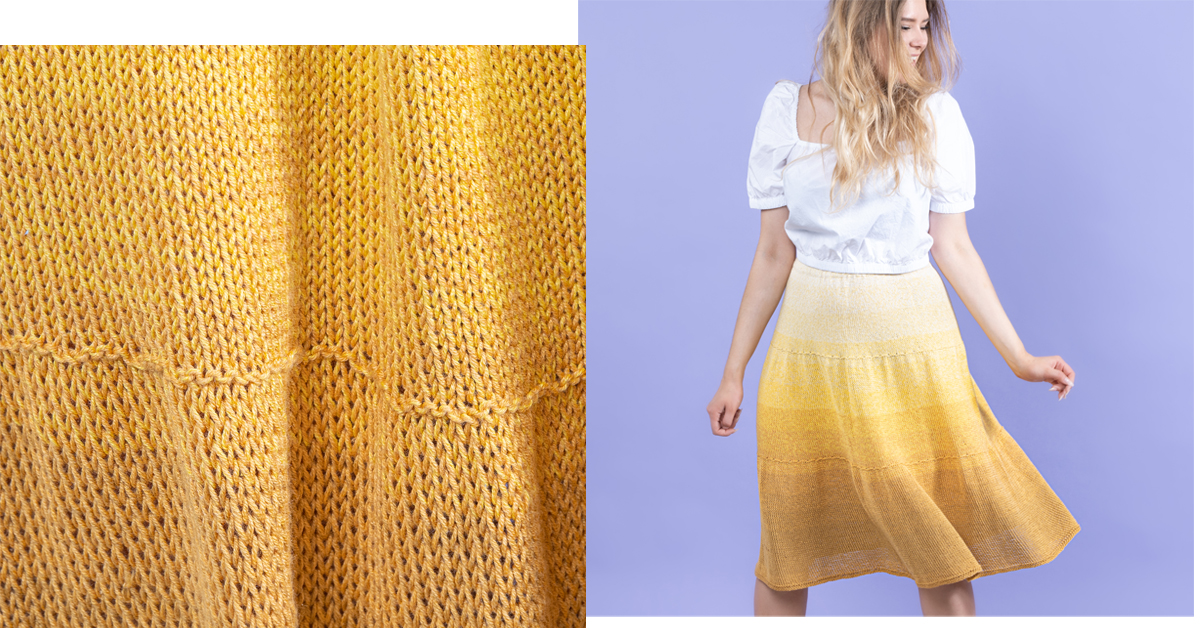 Laudy is seen here in Yellow Snapdragon (36), a pretty, yellow color that we expect to see a lot over the summer. But Twister is available in a wealth of beautiful color combinations, so you have every opportunity to choose the colors you love best.
If you want the skirt to be one solid color, you can replace the two skeins of Twister with 5 skeins of Twister Solid.
Read more about the fashionable colors of the summer here.
The knit version of a classic t-shirt
A t-shirt never goes out of style, but every new season usually brings a new twist to this classic item of clothing. From fun necklines to tie-dyes, the t-shirt has seen it all. Now that knitwear has become increasingly popular over the last couple of years, we think it's time for a knit version.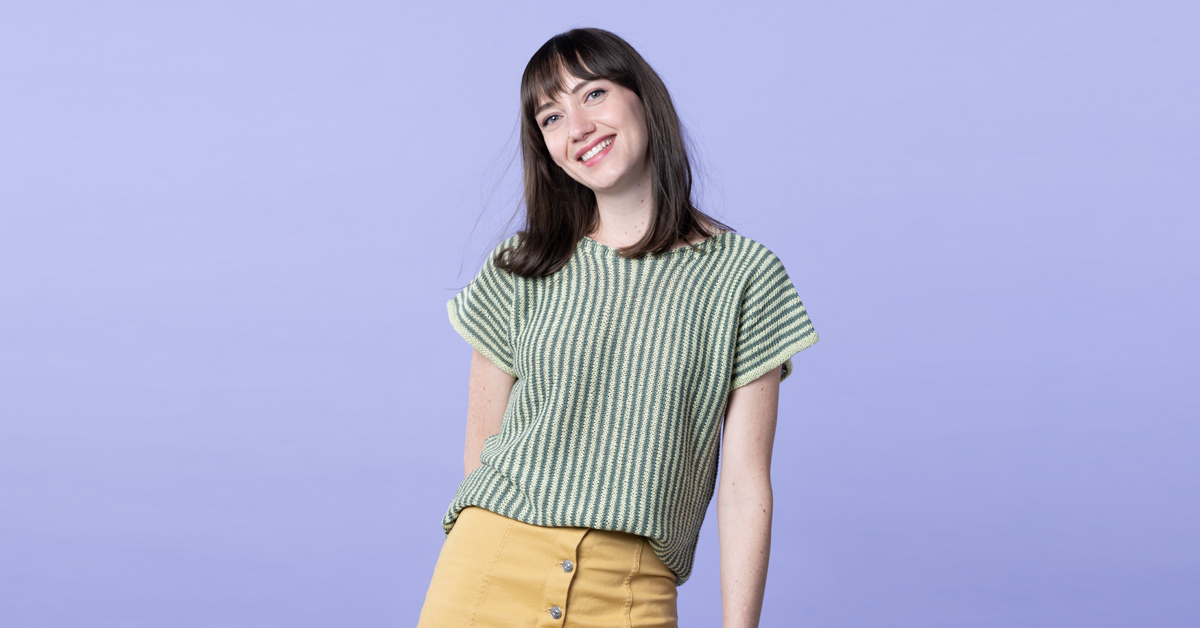 Lynn is knit from sleeve to sleeve and is shown here with vertical stripes. You can, however, knit it in one solid color to easily combine it with the rest of your wardrobe.
Even though the t-shirt is knit, it works well in the summer. It's knit in New Arezzo, which is a mixed yarn made from bamboo, linen, and cotton fibers that keep you cool in the summer heat.
I already have a couple of color combinations in mind. I'd like to make it in some pretty orange shades like Rusty Orange (1340), and Dark Orange (1448). Perfect for this summer.
If your collarbones need a little extra air, you should consider the asymmetrical Elin top or the Barbara top that both have pretty necklines and a nice elastic bottom edge that adds a little volume and movement.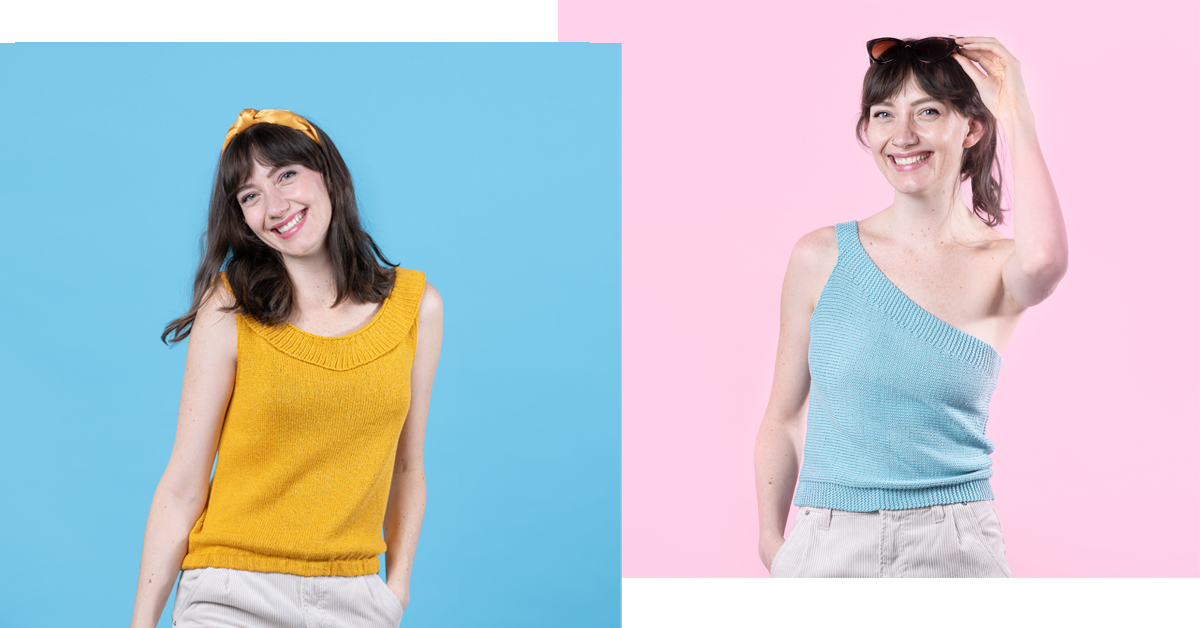 You can choose between Elin and Barbara, (or you could make them all 😉) now. They're already on our website 🎉
Psst... even more patterns on their way
You've still only seen a small selection of our collection. More beautiful clothes will be added this spring.
There are lots of patterns to get started with and enough to make a whole outfit.
"It's the first time we have a complete collection, and we've made lots of beautiful pieces that go well together and can be combined in many different ways," says Gea, our talented photographer behind all the pictures of the new collection.
So, if you want to go all the way and make a full, home-knit outfit, you can already do so with this collection. You could, e.g., combine the Elin or the Barbara top with the Laudy skirt 🤩
Does the collection need to find its way to your closet?
You can get started for free. The patterns can be downloaded directly from our website.
If you want, you're more than welcome to share photos of your projects with us on our website. We always LOVE to see our patterns come to life 😍 You can share your photo by finding the pattern on the website, like the Barbara summer top, and clicking "photo gallery".
What would you like to see more of in the next collection? More dresses, certain cuts, or maybe some specific materials? Please tell us about your ideas in the comments below👇