Is your wardrobe in need of a breath of fresh air and some vibrant colors? Find inspiration here and get started on creating clothes and accessories in 2021's big color hits!
The fashion we see in the streets is often the result of the big fashion designers creating trends and sending them out on the catwalk. Cut, materials, and especially colors seep down into the stores and become the fashion we see in our neighborhood. This year, I've kept an eye on the catwalk and have seen some definite color trends that I think will become part of the next season's color palate.
Yellow and orange shades
Yellow and orange are often found in the summer - nothing new here. But the special thing about them this year is the shades. Where we usually see pastels becoming fashionable when the weather gets hot, 2021 is going in on the bold color versions.
Think of the warm, clear yellow color of the sunset. There's no reason to be afraid of the vibrant colors. They can still easily be combined with white t-shirts and jeans for a balanced look that can also be worn when the weather's sad and gray.
The beautiful Ada Summer Top is, e.g., knit with Twister Solid, a beautiful yarn made from cotton and acrylic making it nice and light. Here you see it in the color Dusty Rose (110), but you can also knit it in the trendy, new colors of the season Pineapple (152) or Tangerine (151) 🍊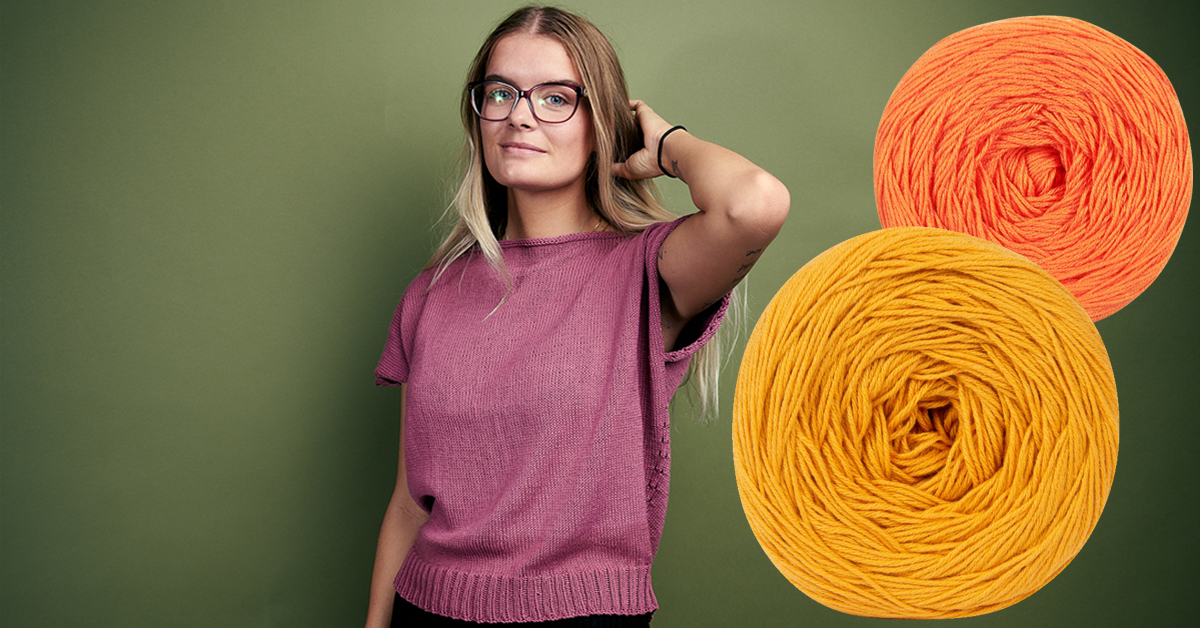 Are they a little too bold for you after all? Then you can try out the more "burnt" versions of yellow and orange. Think of curry and rust. The darker shades also work wonderfully on fresh summer nights where the twilight gives off that special, subdued light. And it can be worn with darker colors when fall comes along (hopefully not any time soon) 🌞
The Sweaters Sadie and Yrsa are perfect in both color and material. Yrsa is knit in Kid Silk in color no. 13 while Sadie is knit in Diablo in color no. 16. These yarns are pretty fluffy and provide great warmth without getting too heavy.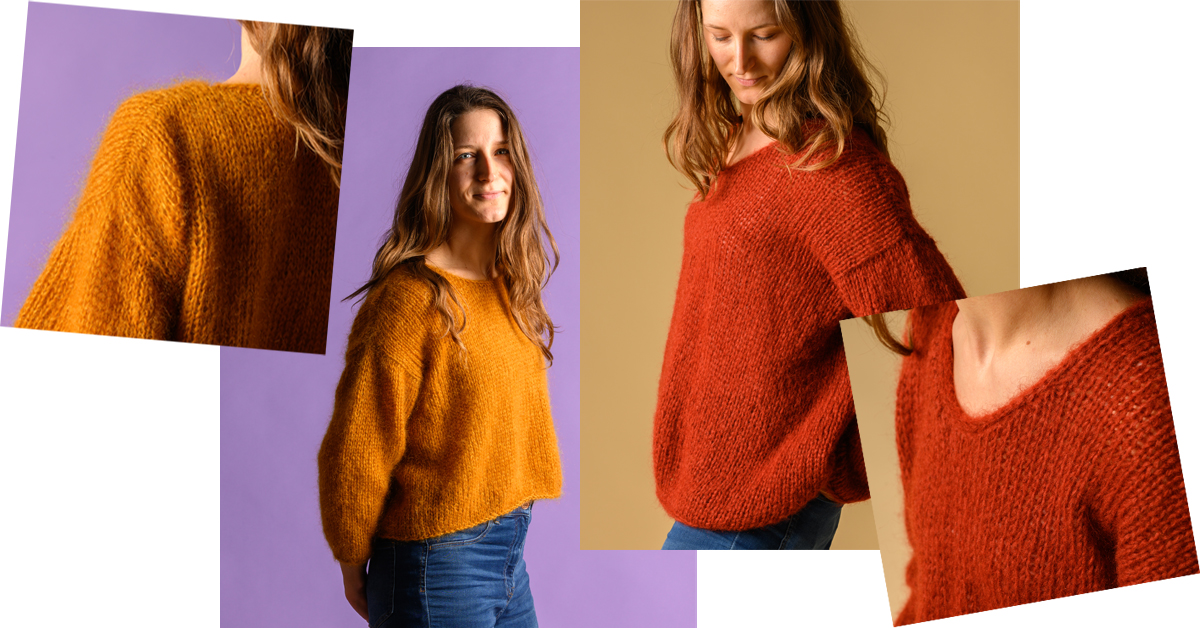 For the crochet enthusiast, I've dug up a personal favorite: The Color Blocks T-shirt. The use of several different colors really gives you the opportunity to play around with the colors to make them fit your personal style. I personally love the ombre effect where you create a smooth color transition with the same color in different shades. Alternatively, you can try your hand at color blocking by using contrasting colors like blue and orange.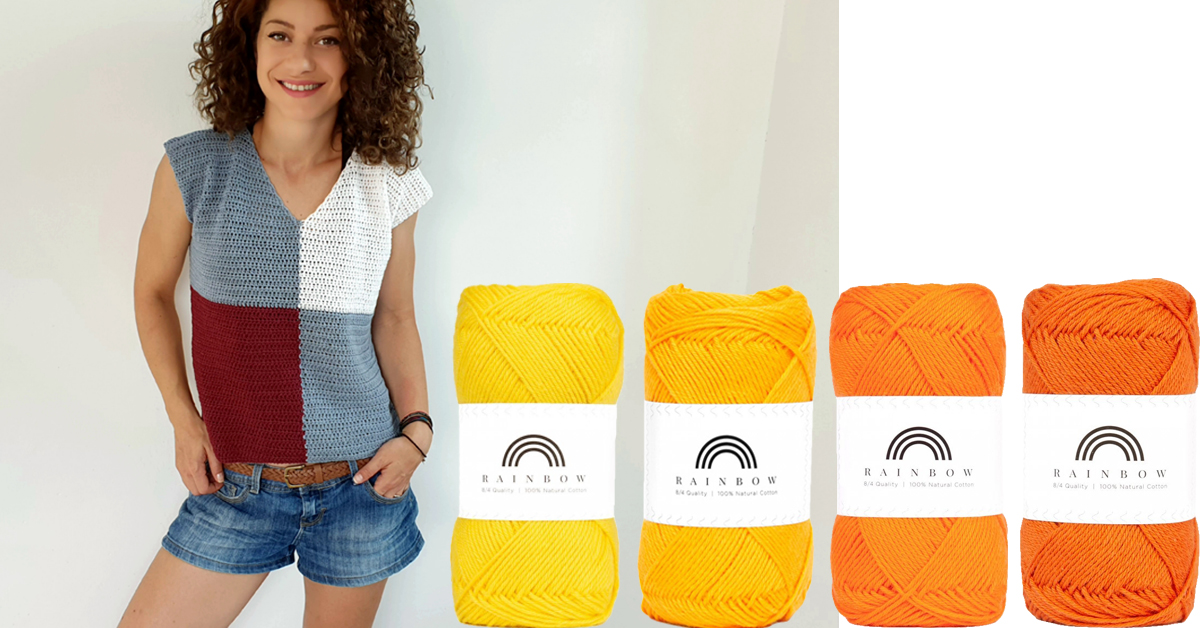 The Color Blocks T-shirt in the photo is crocheted in Cotton Kings Pull Skein Cotton in the colors White (01), Grey (05), and Red (10) but can also be crocheted in Rainbow Cotton 8/4, that's available in an incredible 100 different colors 🌈 On the right, you can see Rainbow Cotton 8/4 in the colors: Yellow (054), Egg Yolk (090), Orange (057), and Burnt Orange (066).
Mint green
Okay, some pastels have found their way into the trends this year. Mint green to be exact. From cute vests and pullovers to sweaters and lighter-than-air summer blouses. I predict that the mint green color will be an absolute hit this year! Pastels are often combined with other pastels, but if you choose a more subtle, dusty shade of the light green color, you can easily combine it with white, beige, and black.
If you're crazy about eyelet patterns in crochet, then the Fresh Hoodie-pattern may be something for you. It works so well over a bikini top when you're going to and from the beach or as an extra layer over sleeveless tops.
In the photo below you can see it crocheted in Rainbow Cotton 8/6 in the color Pastel Mint (025). Alternatively, you can crochet it in Baby Cotton Organic Midi, that's available in the more subdued shades: Mint (09) and Eucalyptus (10).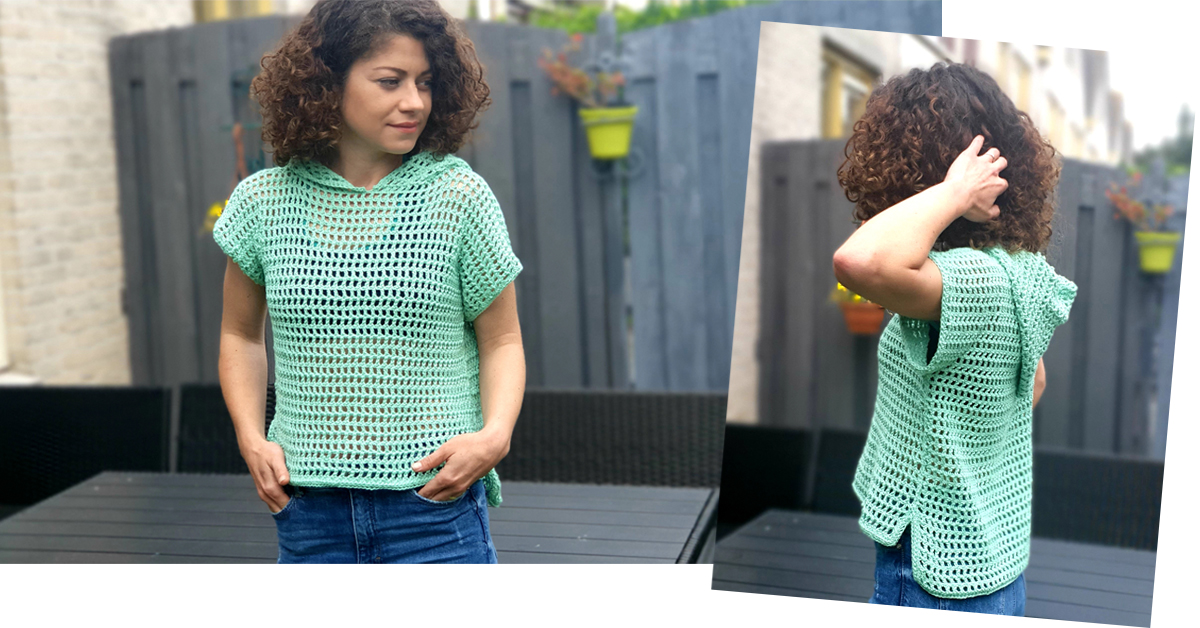 More of a knitter? Then the Willa sweater is an obvious choice. It's knit with the lighter than air Mohair Delight, which's available in several color variants: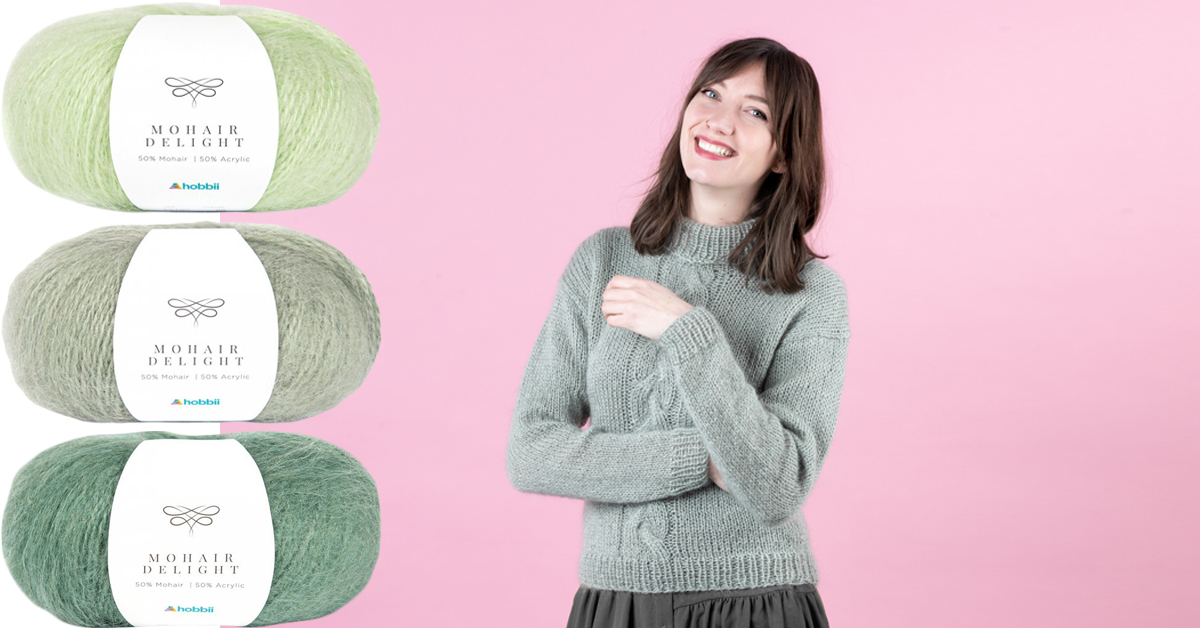 Metal
From glittery sandals and bags to jackets with metal closures. We'll definitely see more of these shiny effects in 2021. And you can easily knit or crochet shiny treats for yourself!
Metallico is a great choice here. Metallico's "heart" is made from a shiny, satin-like strand of polyamide that's enclosed in a mix of merino wool and acrylic. The combination creates a beautiful glow but also makes the yarn nice and warm. That's why Metallico is great for colder days or in very loose knit/crochet.
Alternatively, you can add a little glitter with Diablo Glitter. The yarn has the same beautiful texture as Diablo but has an added metallic thread that catches the light.
TIP: If you've fallen in love with the Sadie and Yrsa sweaters, you should consider using Diablo Glitter to make them.
Do you prefer butting shades together yourself? Then you can do so by combining one strand of Glitter Deluxe with your favorite yarn. Glitter Deluxe is available in several colors, so you can create the exact color effect you want. ✨
Here you see Glitter Deluxe used with Soft Bamboo Double 👇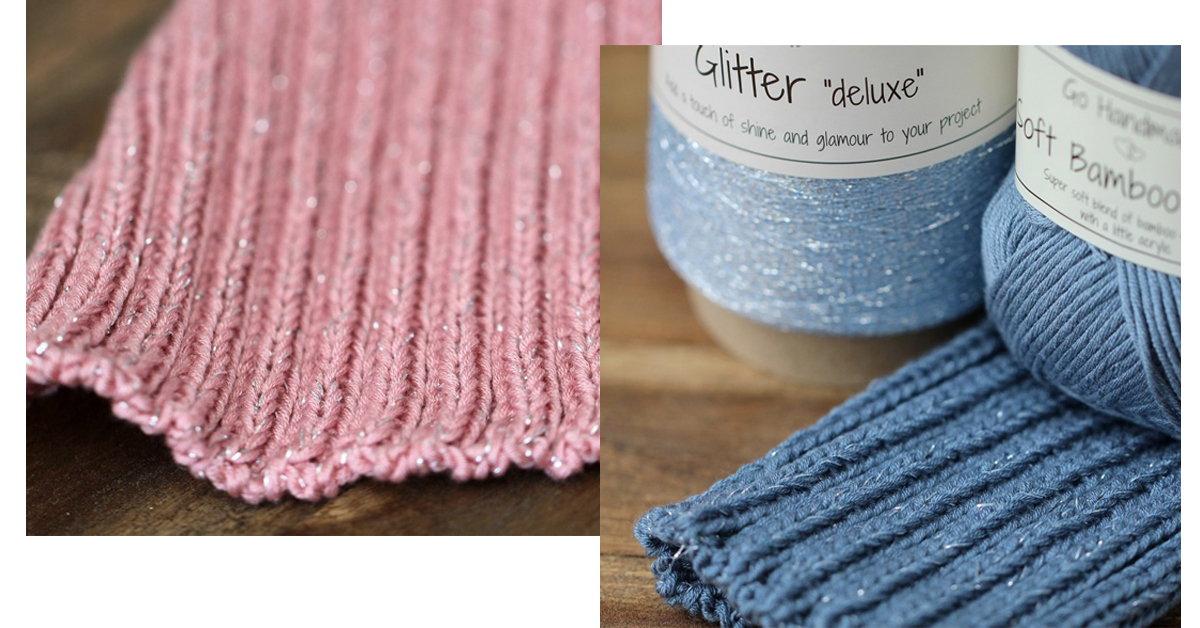 TIP: Natural fibers like bamboo are especially well-suited for warm weather that calls for breathable fabrics. Read more about the perfect summer yarns here: How to choose the perfect yarn for your summer knit and crochet projects.
Which colors would you like to knit or crochet with? Tell us about it in the comments 👇