Laura Dalgaard is the knitting designer behind the brand new tiger design supporting WWF-Denmark's work to save the world's wild tiger populations. We asked Laura about her thoughts on the collaboration and design process - and she even gave us a bit of advice, too.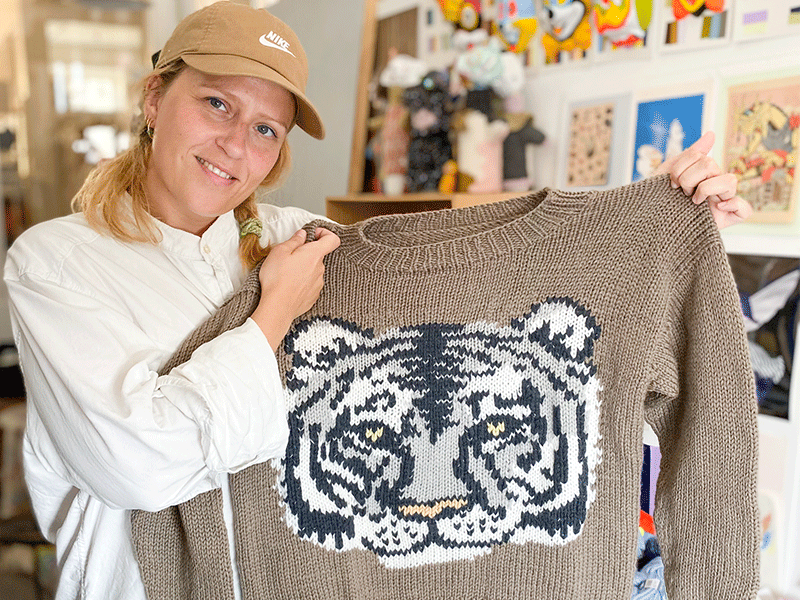 👆 Laura Dalgaard with the tiger sweater in the color combination 'Rare'.
If you're already familiar with the name Laura Dalgaard, it probably makes you think of original and playful knitting designs. Laura has a unique understanding of colors, shapes, and materials, which makes her knitting designs iconic pieces that many people dream of knitting.
And Laura is also the designer behind the cool tiger design that you can buy the pattern for here. All earnings from the sale of this design go directly to WWF-Denmark's efforts to save the world's tigers.
We're super excited about this collaboration! And so, we spoke to Laura about her knitting universe, design process, and the collaboration on the tiger sweater. Read more here 👇
Psst! Laura will also leave you with some tips if you want to try your hand at knitting this wild design.
1. When did your interest in knitting start?
"I learned how to knit 13 years ago when I was 25. When I got into the school of design a couple of years later, I didn't know I wanted to go down that road yet.
However, when I learned how to knit, I got a clear sense that this was a craft that really worked for me. It was something that I had a talent for.
What I felt I excelled at wasn't necessarily the knitting part but understanding how to construct and shape knit pieces. Understanding the shape and the three-dimensional aspect of working with yarn."
2. What does your design process look like?
"If I'm designing a larger project or an entire collection, I make a mood board. It gives me an overview of the colors and moods I'm working with. As an example, my latest mood board is inspired by spirituality.
I work a lot with moods and feelings. The subject that sparks that particular mood or feeling doesn't really matter. You may be obsessed with Pokémon and make something within the same color range as a specific Pokémon without actually including a Pokémon in the final design. It doesn't have to be a one-to-one translation of inspiration. It can be subtle."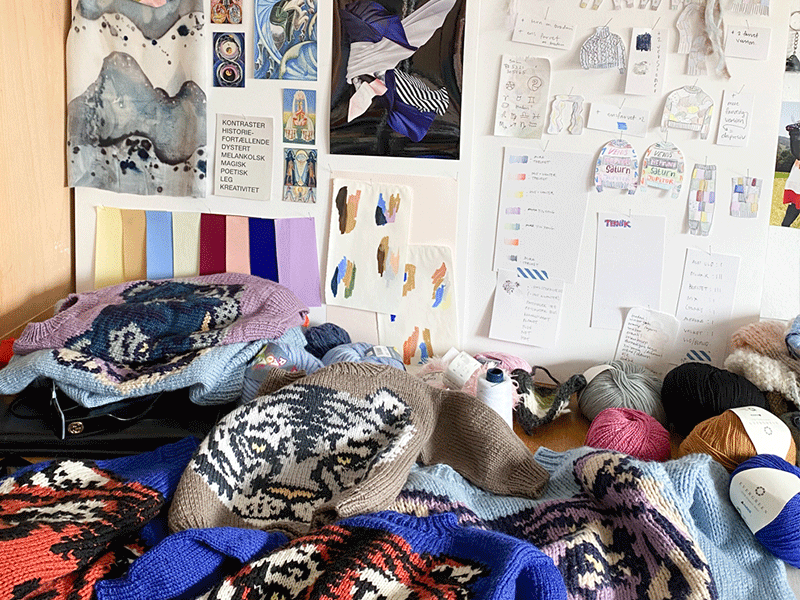 👆 Laura Dalgaard pulls inspiration from mood boards with different colors and moods.
3. What characterizes your knitting universe?
"It's important to me that my designs are of a certain quality. That they're original and that there's a sense of intention when it comes to materials, colors, and composition. I work a lot with contrasts, both contrast in color but also in material or creative look.
I use color to create new and interesting looks, and I really try to tell a story through colors. If you look objectively at me and my designs, you may think that I work within a certain color palette, but my mission is to constantly push myself and evolve.
People are often biased when it comes to colors. When someone speaks negatively about a color, I want to get to know that color and use it in such a way that they may change their mind.
Let's say that people don't like the color orange: If I then take just use a little bit of orange, tone it down a little, and place it next to a different color, it may just work and look amazing."

4. Why did you agree to team up with WWF-Denmark and Hobbii?
"Since I was a child, nature has been important to me, especially the animals, and I think we have a responsibility to take care of our nature and cherish it.
I got the chance to contribute by designing a look that can bring some attention to a good cause with this tiger design, and I feel like it's the least I can do to help make a change in the world.
I knew that the tigers were endangered, but I was appalled when I heard about the snares that the poachers use to trap the tigers. I was surprised at how little I know about the dangers that the tigers face, and I decided that this was an important topic I wanted to help bring attention to."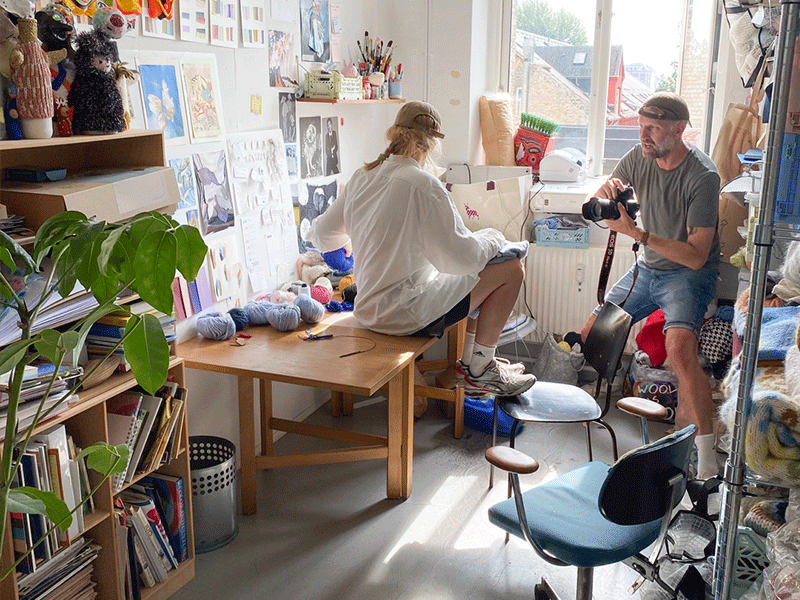 👆 Laura Dalgaard hopes that the tiger design will help bring attention to the well-being of the world's tiger populations. håber, at tigerdesignet vil skabe opmærksomhed om tigernes situation. "I got the chance to contribute by designing a look that can bring some attention to a good cause with this tiger design, and I feel like it's the least I can do to help make a change in the world."
5. What were your thoughts when you created this tiger design?
"When I teamed up with WWF-Denmark and Hobbii to design the tiger sweater, it was important to me that the tiger looked like a real tiger. I didn't want it to look like a naive or silly tiger. I wanted it to look like the proud animal that the tiger is.
Through this design, people will hopefully learn more about what goes on in the wild. Of course, the earnings from the sale of this pattern will support WWF-Denmark's work financially, but my hope is that people will learn something too."
6. What were your thoughts on the different color combinations?
"I played around with the look and color combinations so that the designs would feel different and fit different people and their personalities.
My tiger design comes in four different color combinations. The classic orange tiger that lights up the streets like the tiger lights up the wild. Then there's a lighter design that speaks to those who prefer a more subdued color palette. And I've created two extra designs with a more playful and bold mix of colors that speak to anyone, regardless of gender."
7. What do you like about Evergreen, the yarn used for this sweater?
"It was important to me to use a sustainable yarn for this collaboration to ensure that we put the least amount of strain on the environment as possible while supporting the important work that WWF-Denmark is doing to save the wild tiger. The yarn comes in a really pretty range of colors and is a very high-quality yarn.
Sustainability means a lot to me as a designer. But as a smaller designer, it's not always possible to make those kinds of decisions. That's why it's great when big corporations contribute. That's one of the reasons why I chose to say yes to a project like this one."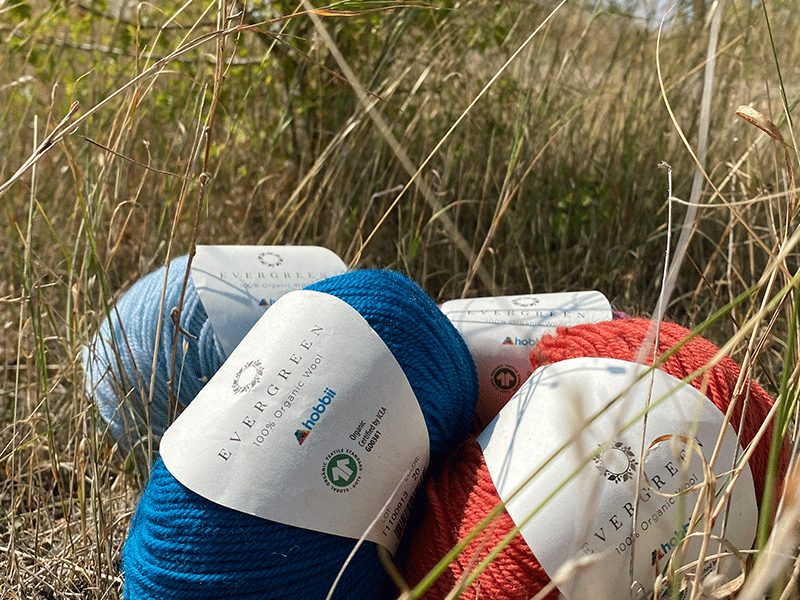 👆 Evergreen is made of organic merino wool and is GOTS-certified, which is an international standard for the eco-friendly and sustainable production of organic textiles. We're super proud of it! Find the yarn here.
8. What techniques did you use to create the tiger motif?
"I chose to use both intarsia and duplicate stitches in my design to make it easier for people to join the fun. It can be a really complex task to keep track of 30 different skeins, which you would have to do if you wanted to make the sweater with intarsia as the only technique. In addition, smaller details don't always look great in intarsia, and in such cases the duplicate stitch is a great alternative.
However, I have included two charts in this pattern so that those who wish to knit the tiger sweater as intarsia from start to finish can do just that. My temper is just better suited for something a little easier and more approachable, and I love embroidering."
9. What is your top tip for the knitter who's trying their hand at Intarsia for the first time?
"Don't be afraid of intarsia. An intarsia project takes a little longer to finish, but that's okay.
My own biggest hurdle was that I had to work back and forth. It was the last thing I wanted to do. But I also think that the results are worth it.
So I decided to purl an entire sweater to get better at purling. It's a little nerdy, but hating purling can be quite limiting to your work. So I had to learn to love it."
10. What is your top tip for the knitter who hasn't done the duplicate stitch before?
"Don't cut too long of a length of yarn. And I personally find it easier to always work the needle in the direction that I'm working the stitches. So, if I, for example, am working right to left, I work the needle around the stitch from the right.
I also don't break the yarn. That way, I can keep embroidering with the same length of yarn and won't have to weave in as many ends."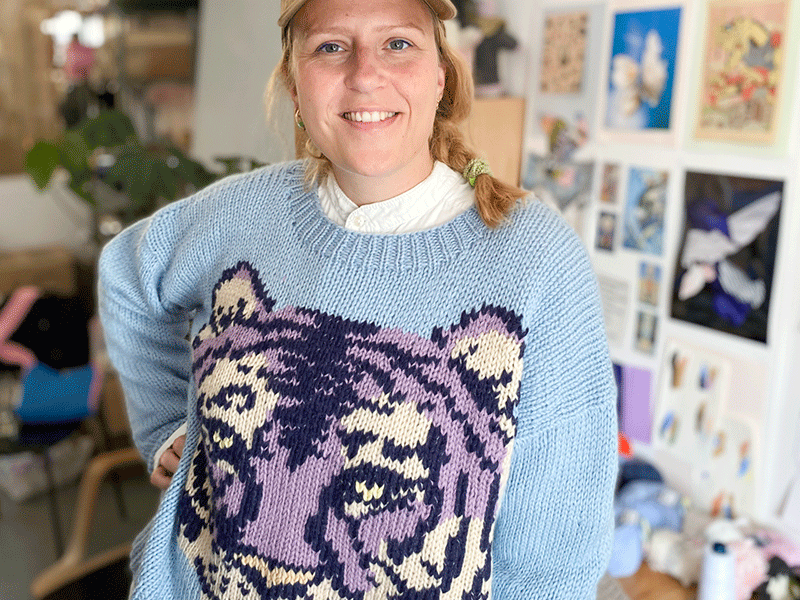 👆 Here, Laura Dalgaard is seen in the color combination 'Candy'. Buy the cool tiger design and support WWF-Denmark's work to help the wild tigers. Knit it in the colors of your choice.
Support WWF-Denmark and try your hand at Laura Dalgaard's cool tiger design
Help us make a difference for the wild tigers. Buy the pattern and support WWF-Denmark's important work to save the wild tigers of the world - and knit the iconic tiger for yourself or someone you love.
Need some help with the techniques?