The interest in granny squares has truly resurfaced. In this blog post, you will find inspiration for your next project with these fun squares that you can combine in countless ways. And you can even learn how to knit four different types of Granny Squares.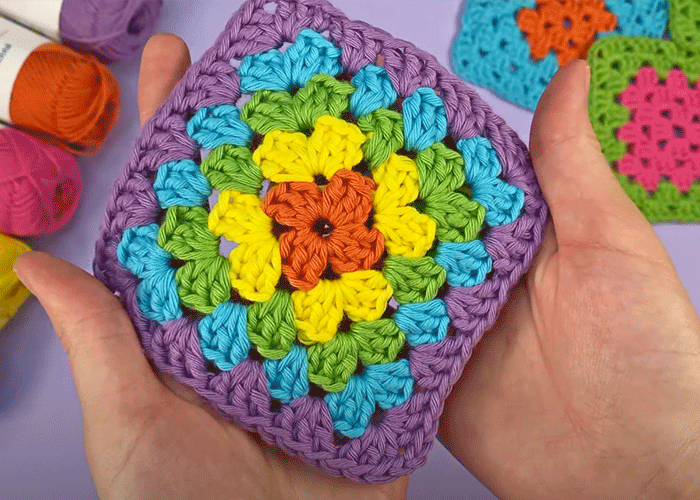 Does the sight of granny squares remind you of … well, your grandmother or great grandmother? To many, these crocheted squares are nostalgic and bring back fond memories from their childhoods.
Now, the granny square is getting its comeback, and I personally love it!
Granny squares, or American Crochet as they were also once called, can be combined in countless ways and be made in many different varieties and colors. And the square shape makes them easy to combine in various ways in your projects.
And, as an added bonus, Granny Squares are perfect scrap projects where you can combine all the leftover yarn that I'm sure you have lying around (don't we all?) 💜
So … what would you like to crochet with granny squares?

In this blog post, you will find:
Inspiration for your next granny square project. Maybe a tote bag, a cardigan, or something else entirely?
Beginner-friendly video tutorials with 4 different kinds of granny squares. Psst! Learn how to make the prettiest sunflower.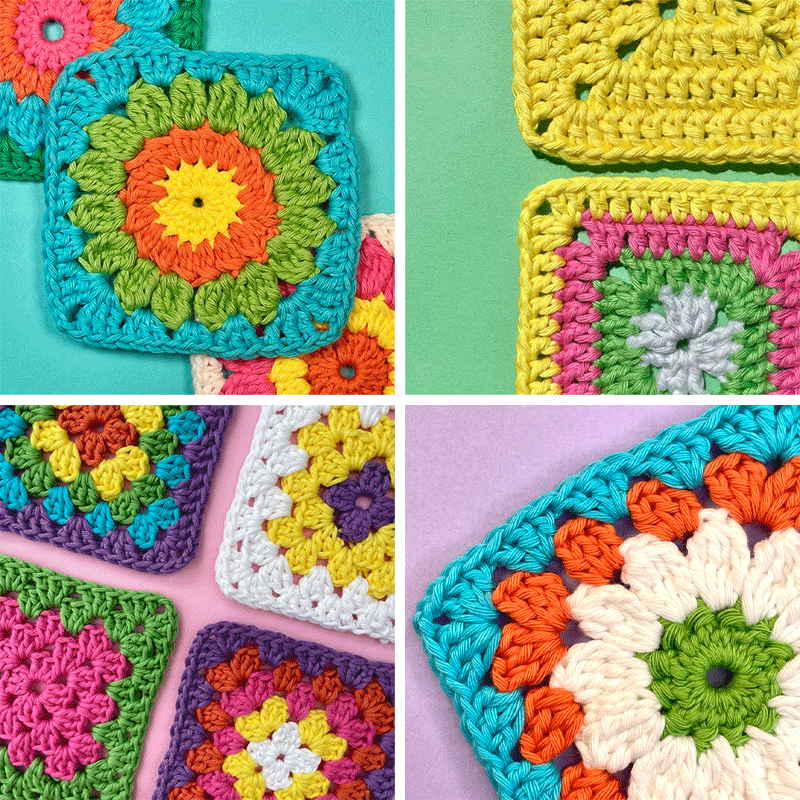 Granny Squares are back!
Try your hand at a granny square project
If you haven't crocheted a granny square project yet, you should go get your yarn and crochet hook right away. Whether you choose to let your imagination lead you where it may, or you want a pattern to guide you on your journey, granny square projects are sure to give you some of the best yarn experiences.
The sky is the limit when it comes to what you can make with the trusted granny square.
Inspiration: Projects you can make with granny squares
Bags
Tote bags
Cardigans
Sweaters
Bucket hats
Blankets
Ponchos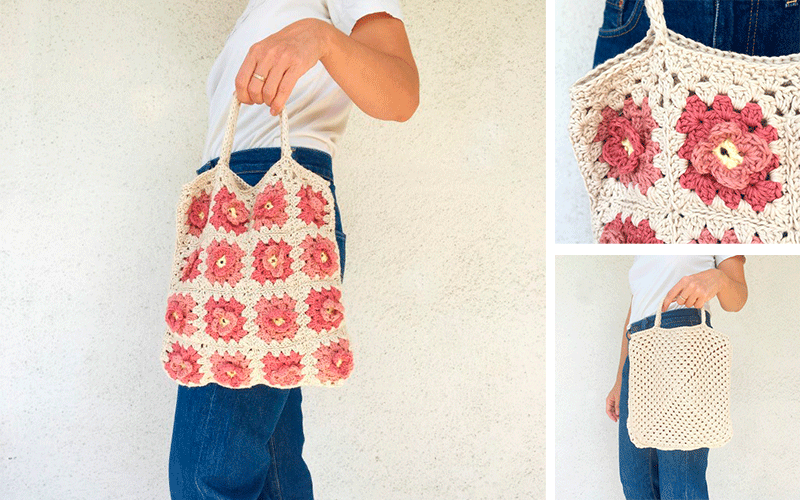 Bags and totes made with granny squares are super trendy right now. Find the pattern for this one here.
Granny Square Tote Bag
If you would like to start out with a smaller project to figure out if you even like to work with Granny Squares, then you may want to start by making a bag or a tote.
You could, for example, make this beautiful and romantic Florentina tote, which consists of 16 flowery granny squares sewn together at the end with a back piece.
The pattern is for slightly more experienced crocheters, but if you have the following techniques down, you will have no trouble making this stunning tote: chains (ch), single crochet (sc), slip stitch (sl st), double crochet (dc), and half double crochet (hdc). The pattern was created by designer Knit Gang.
Buy Rainbow Cotton 8/4 for your project here >>
Take a look at this pattern too: Ocean Burst - Tote Bag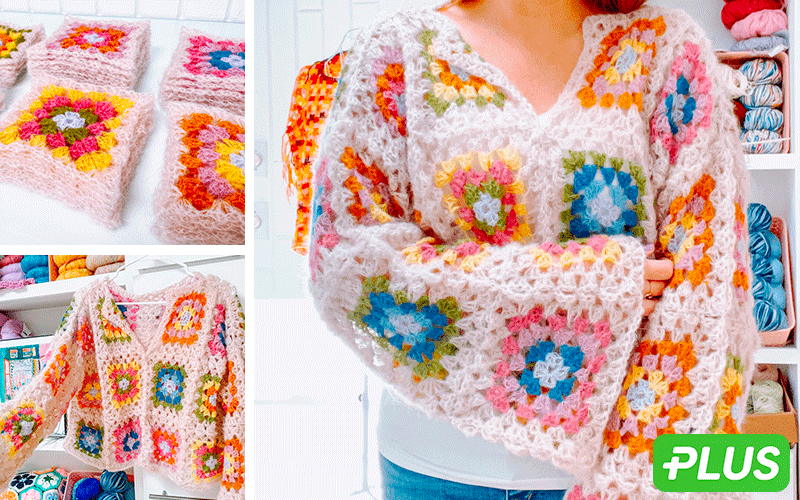 Look at this beauty! Find the pattern here.
Granny Square Sweater
Another granny square dream project could, for example, be a soft cardigan or sweater. I would suggest something like this pretty and airy sweater with the very fitting name 'Fluffy Love'. How can you not fall in love with such a soft beauty?
This sweater is a loose-fitting tunic style sweater made up of colorful granny squares. This gorgeous look is achieved by crocheting with a primary color and supplementing with different contrasting colors.
If you're looking for a beginner-friendly Granny Square Sweater pattern, this is a great choice. This project is made in our soft Alpaca Blaze yarn. Designed by Christina Landrum (@citybrightknits).
Find yarn for your project here >>
Learn to crochet four types of granny squares with video tutorials
Would you like to create your own design with Granny Squares? Then you can find inspiration in these four types of granny squares. Follow your favorite pattern or mix and match with different motifs and colors to create your own, unique style.
These patterns were created by designer Irene Rasch.
What you need for the patterns
A quality cotton yarn. Rainbow Cotton 8/8 is the obvious choice! It's spun with 8 threads and made of 100% soft and natural cotton.
A 4 mm crochet hook (or US G/6). Find your crochet hook here.
Some stitch markers.
Basic Granny Square
In the video below, our lovely YouTube host, Gea, will show you how to make a basic granny square.
Would you like a step-by-step guide? Then click here to learn how to crochet a basic granny square.
Download the free pattern here: Granny Square - Basic >>
Solid Granny Square
If you would like to make a bag with granny squares, it's a good idea to choose one of the more solid versions to make sure that the bag is sturdy enough to hold all your items. Here, Gea will show you how to make a Solid Granny Square:
Download the free pattern here: Granny Square - Solid >>
Sunflower Granny Square
Do Sunflowers make you happy too? Then check out the video below, where Gea explains how to crochet a Granny Square with the prettiest sunflower motif ...
Download the free pattern here: Granny Square - Sunflower >>
Daisy Granny Square
Learn how to crochet this stunning Daisy square. I'm dreaming of a pillow with these cute squares. Let Gea show you how to crochet the daisy:
Download the free pattern here: Granny Square - Daisy >>
More Granny Square patterns