It seems that we'll have to get used to cold floors and chilly temperatures indoors these coming fall and winter seasons. Which makes this the perfect time to start knitting woolly socks for the whole family.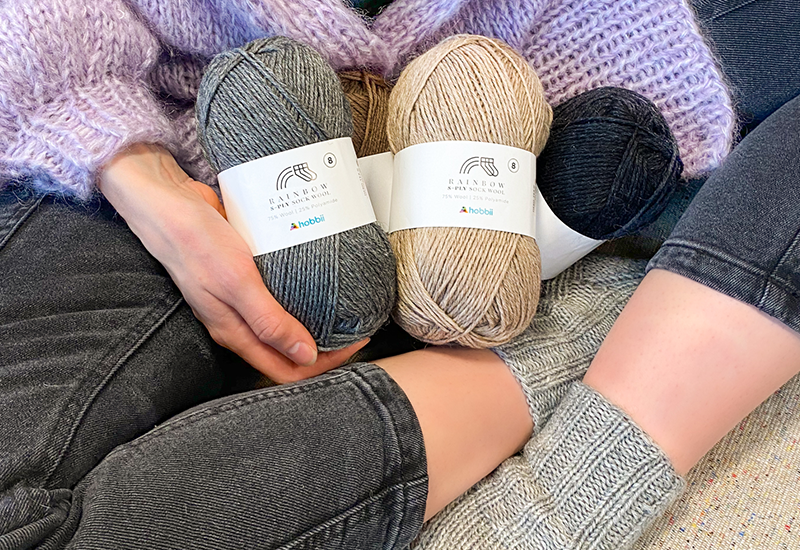 Fall is here and the frost and cold are lurking right around the corner. Sky-high energy prices mean that we're all going to have to think about how much we can afford to heat our homes once the cold sets in.
It will inevitably lead to colder indoor temperatures. But don't worry! I have a plan that will help all our feet stay warm during the colder seasons.
Are you ready? Go get your yarn and knitting needles. It's time to knit socks for the whole family!

Wool Keeps Your Feet Warm
When choosing yarn for the colder months, wool is an obvious choice of material. Wool is a natural material that has a unique ability to regulate your natural body temperature. This makes it the best material if you want to stay warm, regardless of whether you want to use the material to knit socks or a sweater. Wool yarns will help you and your loved ones stay warm all through fall and winter too.
Sock yarns are typically made of approximately 75% wool and 25% polyamide. The wool will ensure that the socks keep your feet warm, while the polyamide ensures durability, helping your socks to stay hole-free for longer.

Choose Your Sock Yarn
Want your entire family to have nice and toasty feet? Then it's time to start making socks. But first, you must pick the sock yarn that you want to use. Perhaps your kids will want to help you pick the colors?
The classic sock yarn
If you're looking for a classic, 4-ply sock yarn, Rainbow Sock Wool 4-ply is your perfect match. It's made with the soft and durable blend of 75% wool and 25% polyamide.
And it comes in no less than 40 beautiful colors, so - believe me! - it can be pretty hard to pick just one! I want socks in at least 20 … 30 … no, all 40 colors! And preferably 2 or 3 pairs with stripes.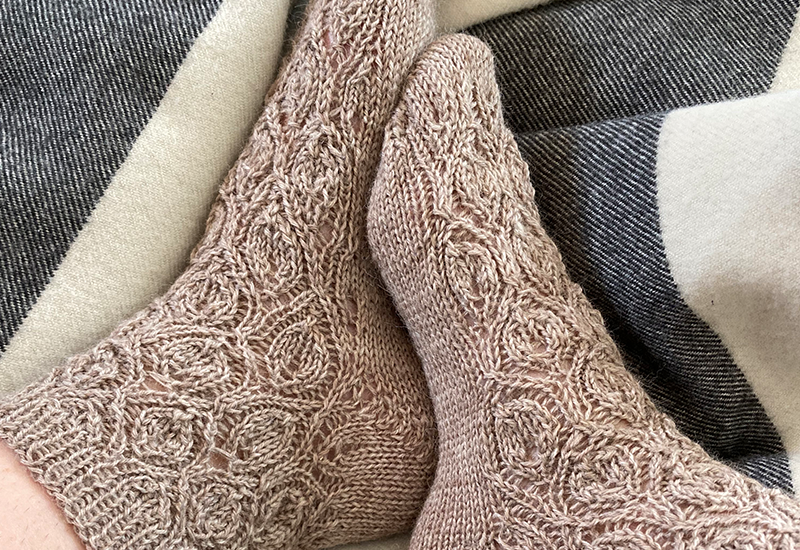 👆 A pretty and feminine sock made in Rainbow Sock Wool 4-ply. They may not be the warmest socks, but they're so beautiful that I put them on my must-knit-soon list! The pattern, designed by SkovCreations, can be bought here.
You should also check out: Elben - Children's socks

The thick sock yarn
If you prefer a chunkier sock yarn, I would recommend that you take a look at Rainbow Sock Wool 8-ply. Like it's smaller sibling (4-ply), it's made of 75% wool and 25% polyamide and comes in 40 different colors. Contrary to 4-ply, this yarn is spun with 8 strands, resulting in nice and warm socks that the whole family will love.
Tip! Rainbow Sock Wool 8-ply is also a perfect match if you're new to knitting socks.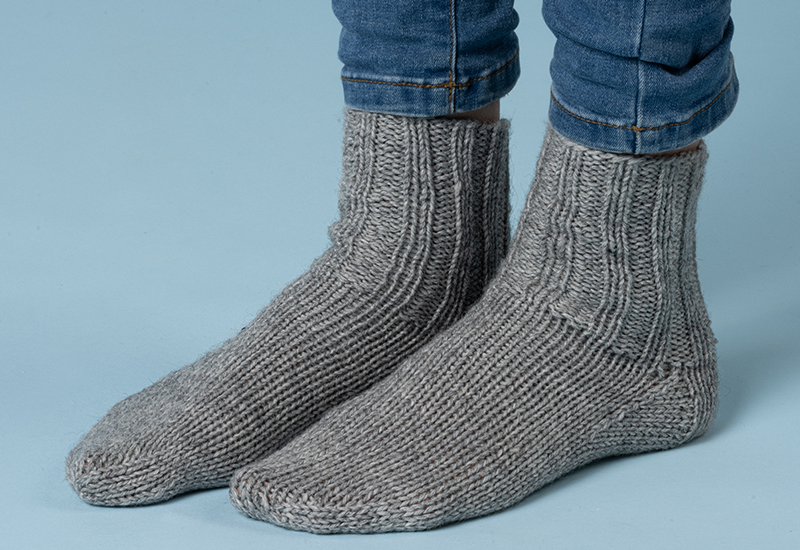 👆 A pair of classic, chunky socks is what your feet need to fight off the cold floors this winter. Here, they're knit in a timeless grey color (11). Get the free pattern here.

The fun and colorful sock yarn
If your family loves bright and fun colors, we recommend our fun and colorful Silly Socks, which, like the Rainbow Sock Wool yarns, is made of 75% wool and 25% polyamide.
The yarn comes in 10 fun and enchanting color combinations - something to suit any taste. Personally, I can't get enough of the stunning, earthy colors of 'Dary Lion Tamer' (no. 03) and 'Magic Trick' (no. 10).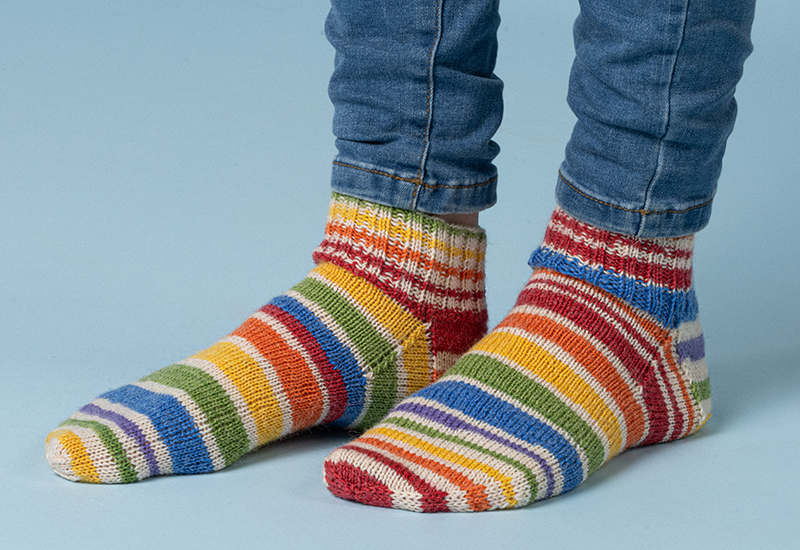 👆 You can't help but smile when you see these lovely ankle socks knit in Silly socks. Here, you see them in the color 'Witty Joker' (02). The pattern is free and can be found here.
The extra soft, luxurious sock yarn
You may already be familiar with our Unicorn and Unicorn Solid. You can make all kinds of different projects in these luxuriously soft yarns made of 75% soft merino wool and 35% durable polyamide.
Unicorn is an exceptional, hand-dyed yarn that will bring a beautiful and unique play of colors to your socks, while Unicorn Solid is the solid-color version that you can use as a supplement to Unicorn or by itself to achieve a more classic look.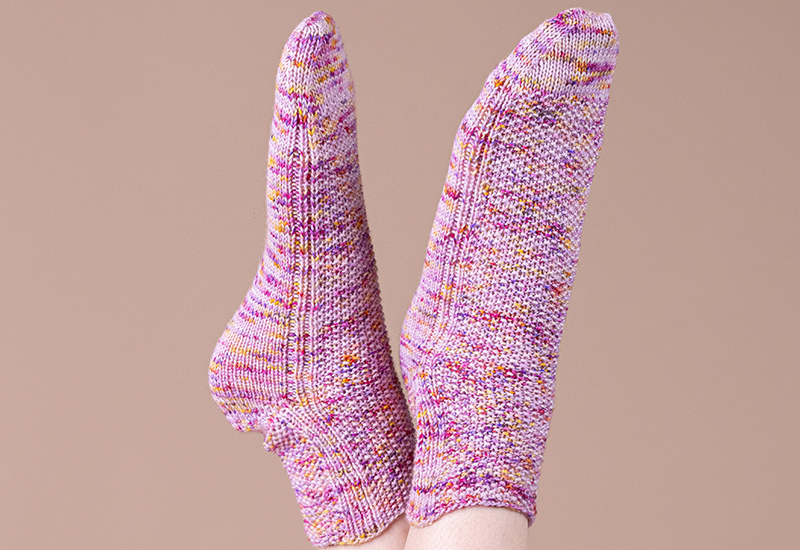 👆 Play around with different structures in your socks. This stunning sock is knit with a rib stitch on either side, moss stitches on the instep, and stockinette stitches on the sole. Knit in Unicorn in the color 'Giving' (02). Get the free pattern here.
The Christmasy sock yarn
Christmas Sock Wool will spread Christmas cheer everywhere you go! And just in time for you to make matching Christmas socks for the whole family. It doesn't get any cozier than this.
Want your socks to be a little extra festive? Take a look at our glitter version, Christmas Sock Wool Glitter, which is perfect for any festive holiday moment!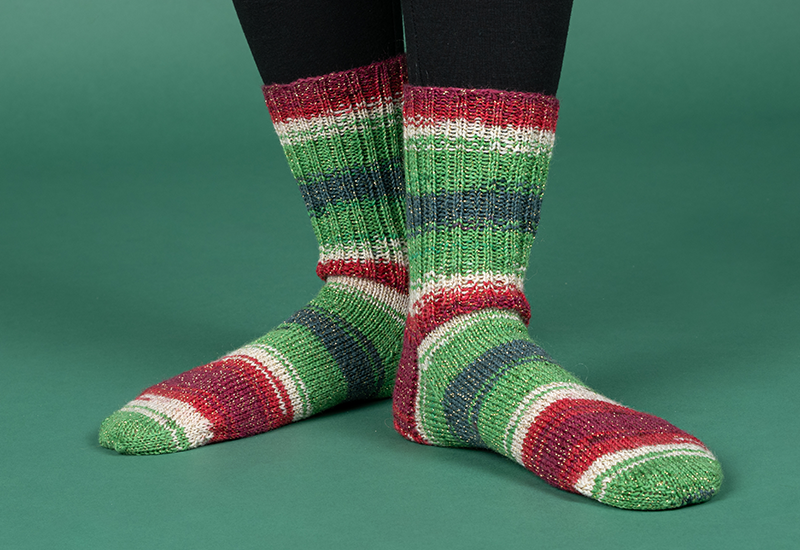 👆 Feel the Christmas spirit with these cozy socks. They're sure to spread Christmas cheer - both while you knit AND when you give them to one of your nearest and dearest. The pattern is free and even beginner-friendly. Download it right here.
I hope I inspired you, and that you got some new ideas about how to keep your feet warm this coming fall and winter, which will probably be a little colder than normal.

Happy yarn-greetings 💜