Do you ever get sore wrists and muscles when you crochet? Then keep reading and learn more about ergonomic crochet.
What is ergonomics and what does it mean for your crochet projects?
Ergonomics, in short, is about how the body functions during work. When you crochet, you use your body and it is important that you do this in the best possible way. In the worst case, you run the risk that your muscles, for example the wrists, become overloaded, which can lead to pain and inflammation. If you are really unlucky, this can lead to permanent injury.
I will try to guide you through the ergonomic conditions that apply when crocheting (and knitting).
Gripping the hook
When I learned to crochet, I wasn't taught the various methods of holding a crochet hook. I just started crocheting. It didn't take long before I started having problems! My crochet hook slipped around in my hand and I felt my hand was very tense, trying to keep the hook stable. After struggling with it for a few days, I went online to find a solution. The first thing I found was that there are 2 ways to hold your hook.
Knife-hold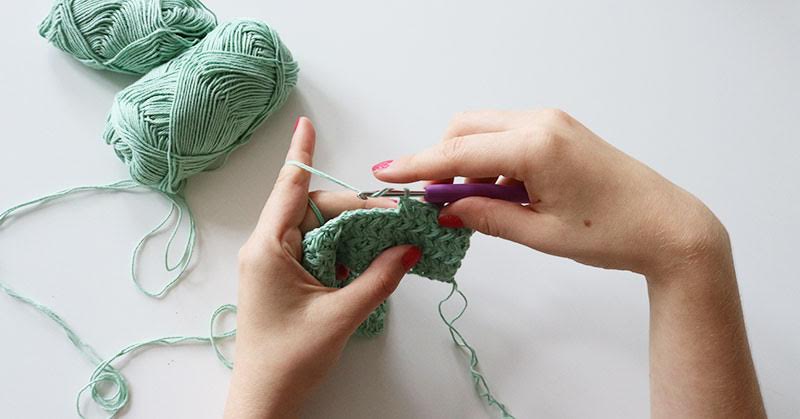 Pencil-hold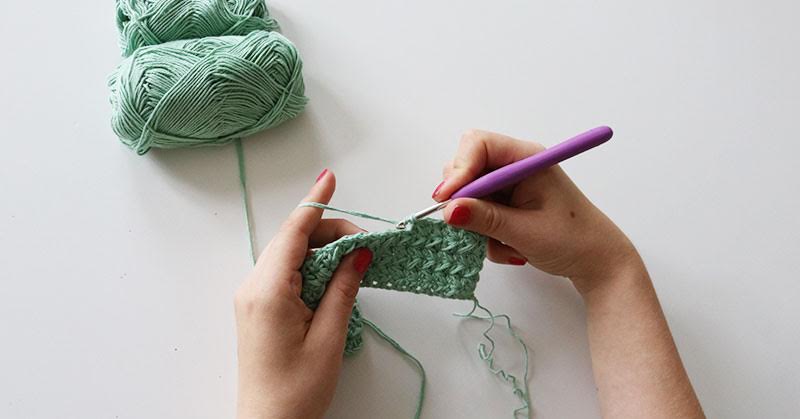 One grip is not necessarily better than the other. It's about finding out what works for YOU. I found out that what I was doing did not work and I switched grips and now I only crochet with a knife-hold.
It is important to emphasize that there is no "correct "way to hold the hook. When you have found your favorite grip, you should find the hook will work best for you. There are many different styles of crochet hooks out there and they all work for different needs.
Ergonomic crochet hooks - do they make any difference?
It may be hard to imagine that the handle of a crochet hook can make a difference to your comfort, but they do. There are many versions of the ergonomic-hook a great tool that can help you achieve optimal ergonomic comfort while crocheting.
What it does is ensure that you keep the crochet hook in the perfect hold. Compared to a crochet hook without an ergonomic grip, these hooks are designed so that the soft material and handle lies naturally in your hand, which means you can crochet for hours without sore hands or wrists.
You can try the ergonomic crochet hook from Prym. They are available in sizes 3 to 15 mm. If you need a smaller hook, I would recommend the Aluminum Crochet hooks from KnitPro. The hooks are available in many sizes and have an ergonomically designed handle. My personal favorite is Soft Touch from Clover. Their handle is flatter than the other two I've mentioned, but it works really well for my knife-hold style.
Sitting position – how are you supposed to sit, and does it matter?
It is not only important to think about ergonomics in your crochet grip, but also in the way you sit when working. If you, like me, love to crochet so much that you sit for many hours at a time, it is important that you sit correctly.
If you are unlucky enough to get a crochet injury, it requires rest, and that's the worst news a crochet enthusiast can get! ;-)
It is crucial that the place you crochet is a place you can sit for many hours at a time. Here, the couch may not be a great choice because it is very soft and have very little back support. One of the most important things is to make sure you have space around you. I personally crochet best when my elbows are free of any armrests. If you feel it is hard to keep your elbows at the right angle, put a small pillow under each arm to relieve both the shoulders, elbows, wrists and hands.
The yarn and lighting have an effect as well
The last thing I want to tell you is how yarn and light have an impact on ergonomics. It can be important for your comfort to crochet with a yarn that slides easily or with a crochet hook with light in so you never have to strain your eyes.
My own experience is that it can be harder to crochet in fabric yarn such as Ribbon, as it takes a little more effort to pull the yarn through the stitches. Cotton, like Rainbow or Cotton 8/4 Junior slides well on the hook, and I don't feel that I am using much force to crochet. Especially if I use one of the ergonomic hooks I mentioned earlier.
I hope you've found this post helpful, and that you will think about the ergonomics when you crochet.
Best Wishes,
Josefine, Hobbii