Do you know exactly what number someone's talking about when you hear "Two Little Ducks" and "One Fat Lady"? And do you think that yarn prizes are some of the best in the entire world? 🧶😍 Then we have amazing news for you: we've made our very own Hobbii Bingo!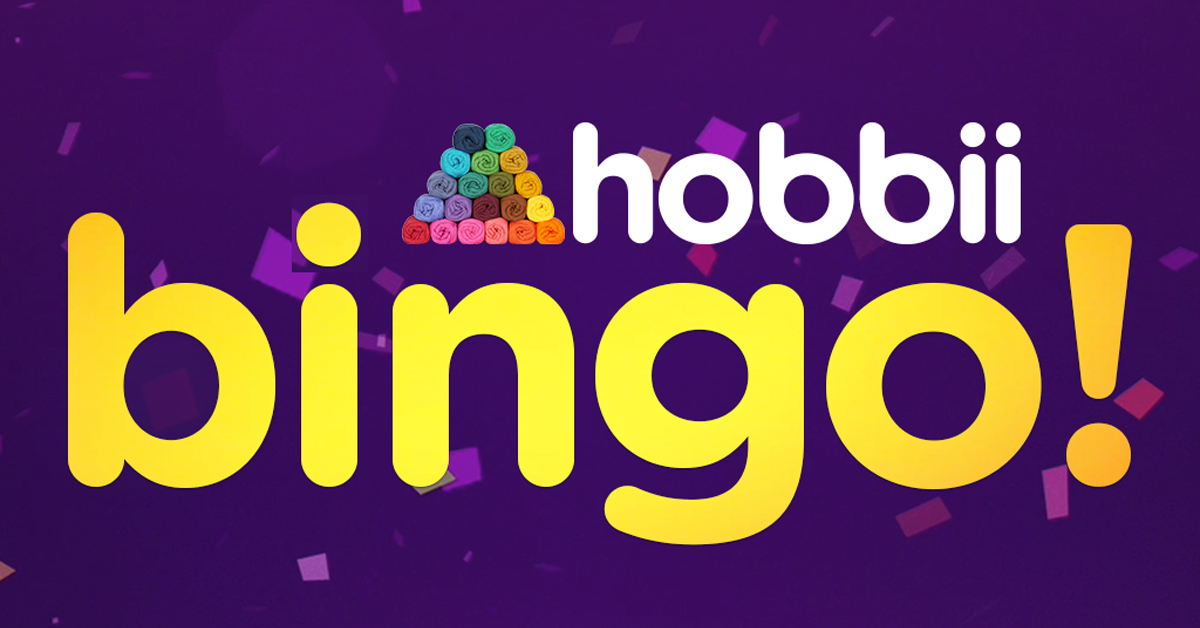 Every Monday at 17 AM PT you can tune in to our digital Bingo, where our lovely colleague, Gea, is hosting. I can tell you this much, she is REALLY looking forward to it! 🤩
You can download the Hobbii Bingo App for Android here and iPhone here.
How do I play?
Each game lasts approx. 40 minutes, and we've made it easy to play. When the game starts, all you have to do is lean back and enjoy the game. We'll take care of the bingo cards!
The host calls out the numbers, and guides you through the game. When the numbers are called, they'll show up on your screen and then settle on your bingo card automatically if you hit the correct number.
We'll keep an eye on your card, and if you're the lucky winner, you'll get a message directly on your screen. You'll also get an e-mail telling you exactly what you've won and when you can expect to get your prizes.
That way, you'll never be unsure whether you're one of the lucky winners! 😉 It also means that you'll have your hands free to knit while we play 🤲😍
Check out our latest Bingo game in Denmark 👇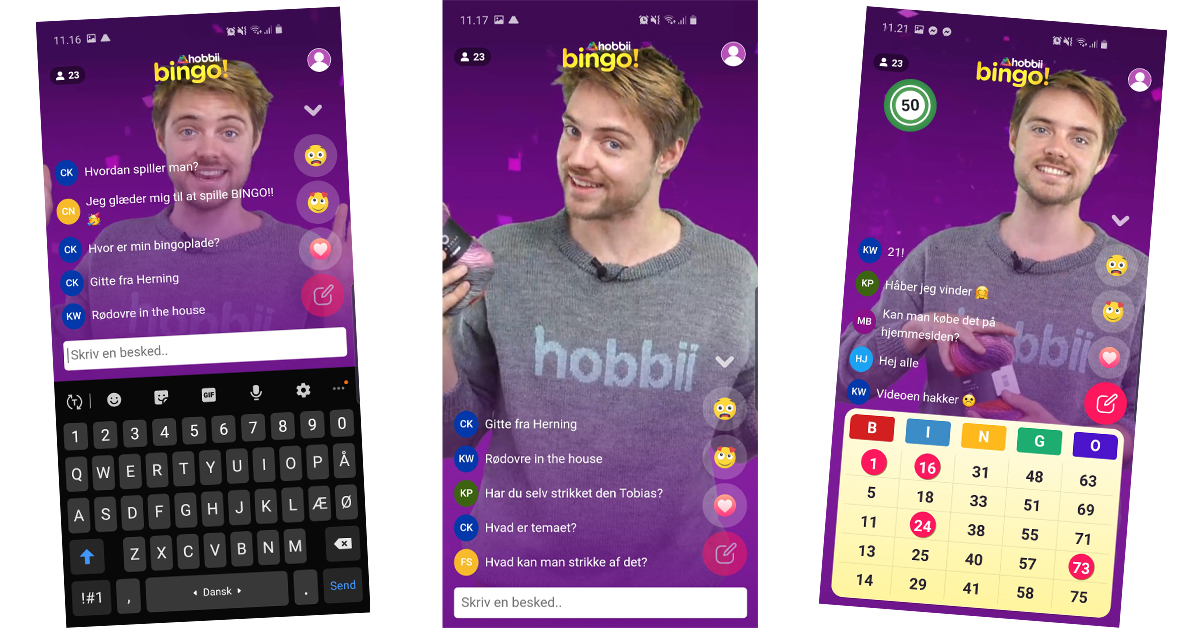 Buuut, we'd really love to hear from you and all the other bingo players! So, we've made sure that you can write comments while we play. Your comments will be visible to the host as well as the other players. So, please ask questions and tell us what you want to use your prize for if you're one of the lucky winners of our Hobbii Bingo!
Can I win real prizes?
You bet! The prizes will vary, and they can include anything from yarn to crochet hooks, knitting needles, yarn bags, and practical accessories.
Our Danish host Tobias gave out some amazing prizes in our latest Danish Bingo game 👇 Join Hobbii Bingo for a chance to win amazing stuff!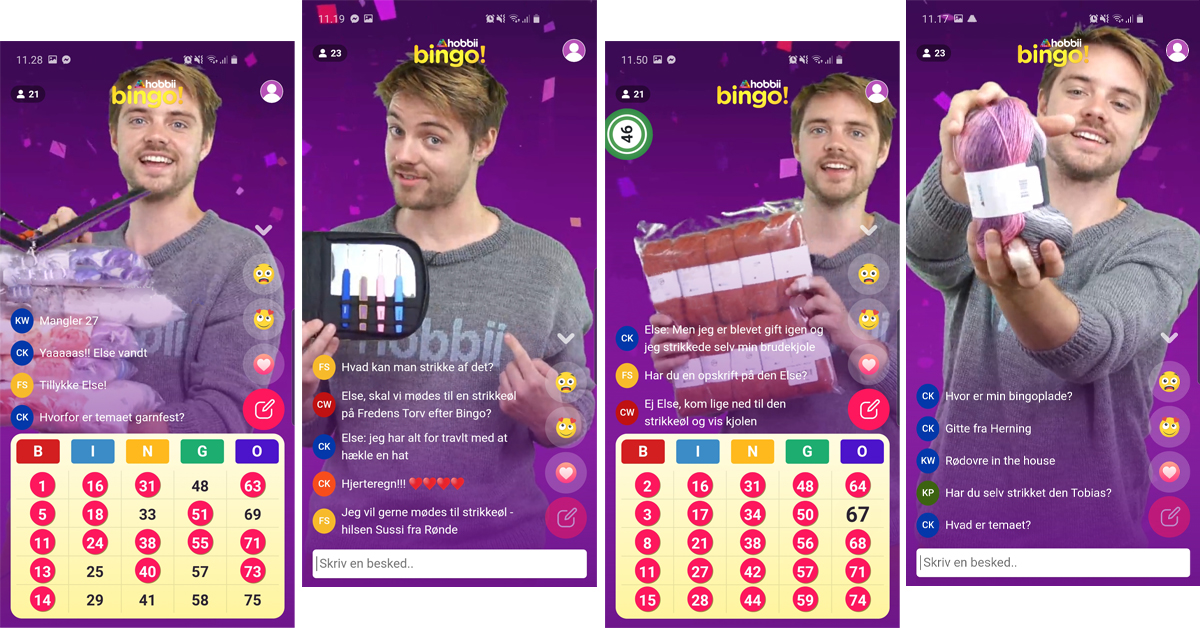 On rare occasions, several players may complete a row or get a full card at the same time. If this happens, we'll draw a random winner among these players. Even though you might not snatch the main prize, you can still look forward to playing. We've got consolation prizes for you as a thank you for playing ❤
And don't worry, we'll take care of the postage, of course 🥰
Are you ready for Hobbii Bingo? 🤩
Then don't wait! Download the Hobbii Bingo app today!
If you have an Android phone, you can download the app here.
If you have an iPhone, you can download the app here.
When you've downloaded the app, you need to make an account with your e-mail and a password, because you need to be a member of My Hobbii to play. Don't worry - it's completely free.
Already a member? Then you can use the same username and password as the one you use to log in to My Hobbii. Not a member already? You can make an account directly in the app.

Psst…. You get lots of perks when you're a My Hobbii member. Read more here.
When you've signed up and logged in on the app, you'll see the front page of the Bingo app, where we'll show when the next bingo game is taking place. Then, all you have to do is open the app before the next game starts.
NB: It's important that you open the app on time. If we start a round before you open the app, you won't get a bingo card for that round. But! You can still watch and join in on the conversation as you wait for the next round to start 💬
We'll play the very first game of Hobbii Bingo on Sunday, October 31st. So, remember to download the app beforehand and come play with us!