From July 1, you can buy the kit for our Mystery CAL #HobbiiHappySquares, which we will start on August 15. The crochet challenge is a fun way to work alongside other happy crocheters - and to work on a secret design that is released in smaller chunks. In this blog post, you will find answers to 10 essential questions about our CAL.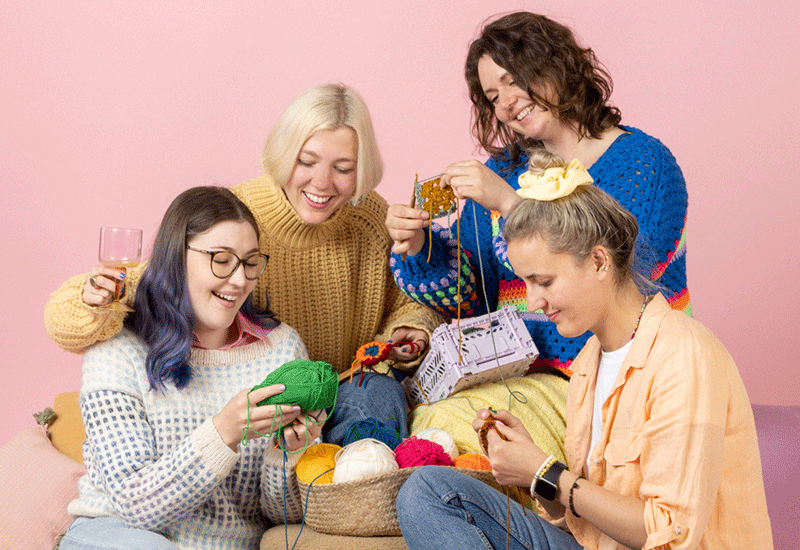 Whether you love surprises or just have a dream of learning how to crochet, this CAL is a great opportunity to be part of a funloving community where we work alongside each other on the same secret project.
From August 15, you can join us in making our Mystery CAL, which we have chosen to call #HobbiiHappySquares 🙊 We will guide you and other crocheters through 5 exciting steps of a pattern that we will publish in smaller pieces while we crochet. The pattern has been developed as a collaboration between Hobbii and Sandra Torrance, an incredibly talented Australian crochet designer.
Are you new to the art of crocheting? No worries! This CAL is a great way to learn how to crochet alongside other newbies as well as more experienced crochet enthusiasts. It will get challenging at times, but don't worry! We will guide you through it, and you can find support in your fellow crocheters 💛
You could also round up your creative possy or a handful of friends and work on the project together. That way, you can help each other and enjoy a refreshing drink in each other's company while you see the design unfold before your very eyes week after week.
I can guarantee that you will be proud and happy when you hold the finished project in your hands when the 4-5 weeks are up 😍
Sign up for news about the CAL here:
EU - Click Here >>
US - Click Here >>
UK - Click Here >>
Not sure if this CAL is for you? In this blog post, I will answer the following questions:
1. What is a CAL?
CAL is short for 'Crochet Along' and is a crochet challenge where you work on a project alongside other crocheters. We will be following the same pattern, which will be released in smaller chunks over a period of 4 weeks.
The CAL is a great way to start a new project and learn some new techniques while also having fun. #HobbiiHappySquares will be released in 5 smaller chunks from August 15 to September 5.
We will be updating our Facebook page with information about the CAL in the coming weeks, so keep an eye on the page.
2. What is a Mystery CAL?
This CAL is a Mystery CAL, which means that the finished design is a secret until all 5 parts of the pattern are available.
Doesn't it sound exciting to work on a secret project?
I was allowed a sneak peek at the finished #HobbiiHappySquares design, and I loooooove it! And I'm sure that you will too 💜
3. I want to learn how to crochet. Can I join the CAL?
Definitely! #HobbiiHappySquares is a 100% beginner-friendly CAL that increases slightly in difficulty as we make our way through the different parts of the pattern.
Among other things, you will learn basic techniques for crocheting squares and how to play around with various color combinations in different types of squares. At the end of the CAL, you will learn how to do slightly more advanced techniques (but still beginner-friendly!) to finish up your project.
Through the journey, we will help you with video guides. It really is the perfect time to learn how to crochet and try out a new hobby.
4. I'm an experienced crocheter. Can I join the CAL?
Sure! Our CAL is for everyone, and we hope that you want to join us even though your list of projects is probably extremely long already - we, of all people, should know 😉
The CAL probably won't be that challenging for you if you're already an experienced crocheter. But that just makes it the perfect breather-project to pick up and put down while you work on other things.
I'm sure that you're going to have a great time working on this project, and you'll definitely love the finished design 😍 And nothing beats the sense of community you get when you're working on a project alongside others.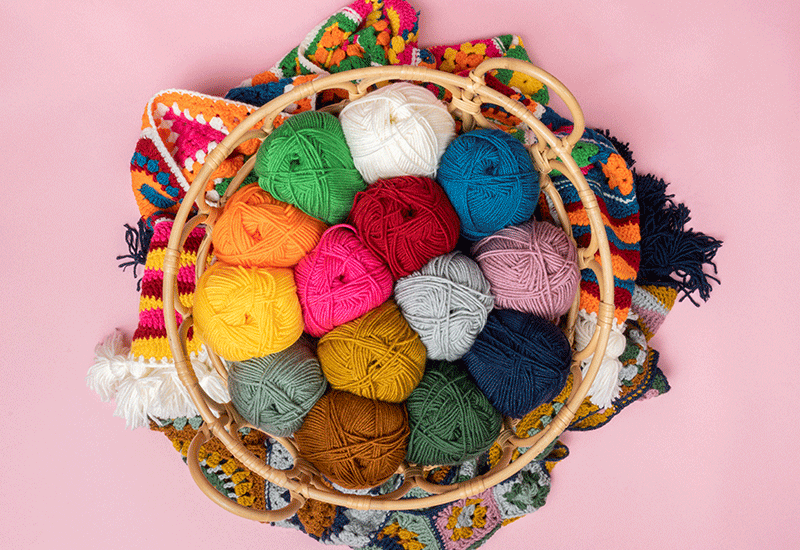 5. What's in the kit, and what does it cost?
From July 1, we will be putting a limited number of kits up for sale.
The kit has everything you need to finish your #HobbiiHappySquares project, including all the yarn and accessories. The price of the kit is 85 USD / 59 GBP / 65 EUR.
NB: Please note that the kit does not contain a crochet hook, since we know that many of you already have your preferred crochet hooks ready at home. For this project, you will need a 5mm/H8 crochet hook. Don't have a crochet hook already? Find one here.
Since it's a Mystery CAL, the yarn we're going to use for this pattern is a secret.
Psst! I can tell you this much … you're going to be working with a nice and soft, anti-pilling, premium acrylic yarn 😉
Choose between two different color combinations:
POP is trendy and colourful - perfect if you'd like to add a dash of colour to an otherwise sad and gray day.
CALM is full of trendy, earthy tones - ideal if you want to feel calm and serene.
If you buy this kit, you will receive 8 skeins of yarn in 7 different colors. Depending on your tension, you may use more or less yarn, and you may end up with some leftover scraps.
6. When does the #HobbiiHappySquares CAL take place?
#HobbiiHappySquares takes place from August 15 to September 12, 2022. The pattern consists of 5 different parts that will be released one week apart. That way, you'll have enough time to get familiar with the pattern and crochet a little before we get started on the next part.
Here's an overview of when you will be able to pick up your work on the five different parts:
Part 1: Monday, August 15
Part 2: Monday, August 22
Part 3: Monday, August 29
Part 4 & 5: Monday, September 5
Get a good start: Join us Live with the designer
When we release the first part of the pattern on Monday, August 15, we will also go Live on Instagram with Sandra Torrance, the mastermind behind the secret pattern. Here, you will have the opportunity to get more information about the CAL and ask Sandra and Gea from Hobbii all the questions you may have.
Remember to share your final project on Monday, September 12. On Tuesday, September 13, we will find 10 lucky winners.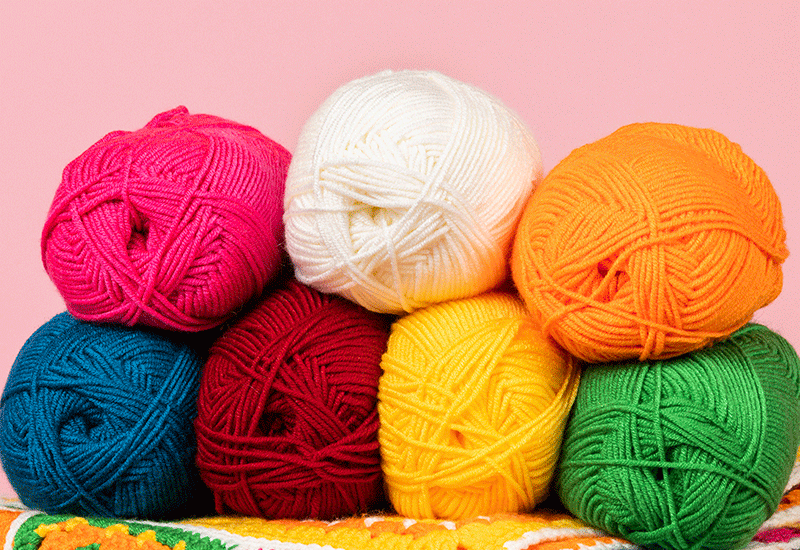 7. How much time should I set aside?
How much time you need to finish a project depends on your skills, motivation, and perseverance. You should, however, expect to spend a couple of hours crocheting each week - then you shouldn't have any trouble finishing the project within the allotted time.
Is the timing just not right? Don't worry! You can start your #HobbiiHappySquares project any time you want while the CAL is still going.
Please note that you must finish your project no later than September 12 if you want to participate in the contest where you can win fabulous and yarn-tastic prizes 😉

And it's just really fun and rewarding to be part of the large crochet community where we are all focused on the CAL, so we hope that you want to join us on this crocheting adventure.
8. How do I participate?
Sign up to get emails full of information and new reveals regarding our #HobbiiHappySquares CAL.
Sign up for the CAL emails here:
EU - Click Here >>
US - Click Here >>
UK - Click Here >>
Share your process with us on Facebook and Instagram with the hashtag #HobbiiHappySquares.
9. Can I win anything?
You bet!! Post a photo of your finished project on Facebook or Instagram using the hashtag #HobbiiHappySquares no later than September 12. On Tuesday, September 13, we will be finding 10 lucky winners of yarn-tastic prizes! 👀
10. Who is the designer?
The pattern was designed by the Australian crochet designer Sandra Torrance from Little Golden Nook. In close collaboration with Hobbii, she has developed a beginner-friendly, fun pattern.
Sandra often finds inspiration for her projects in nature - especially on the beach. When she saw the colours that Hobbii chose for the CAL, she got a great idea for the final design and got started right away on designing and developing the various steps of the pattern. She's a very visual person who loves to design projects and change colours while she works.
Sandra describes the acrylic yarn used for this pattern as nice and soft and perfect for providing warmth without scratching, which was super important to her.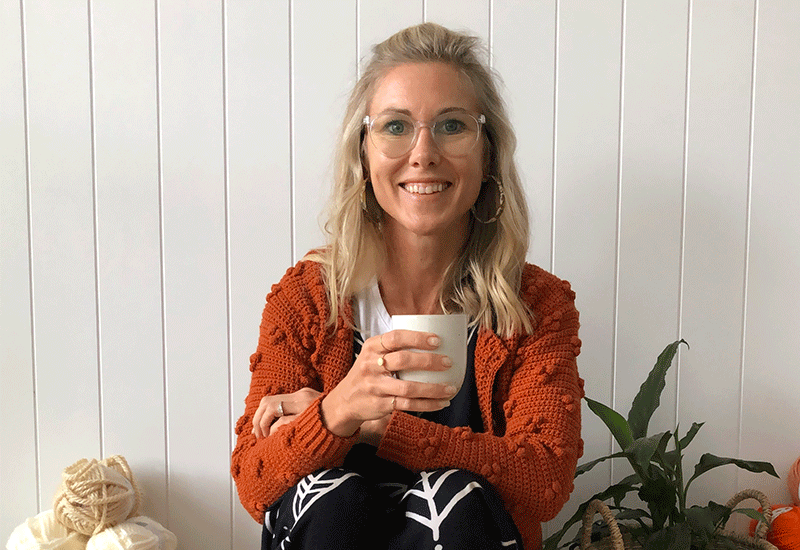 Sandra Torrance from Little Golden Nook @littlegoldennook.
Do you still have questions?
If you still have questions that we haven't answered above, follow us on Instagram and Facebook, where we will be posting regularly about #HobbiiHappySquares.
The best thing about a CAL is that lots of people will be working on the same project at the same time. In most instances, you will be able to ask your fellow crocheters for advice on either Facebook or Instagram.
Go to our Facebook page here >>
Go to our Instagram account here >>
Happy yarn-greetings from us 💜