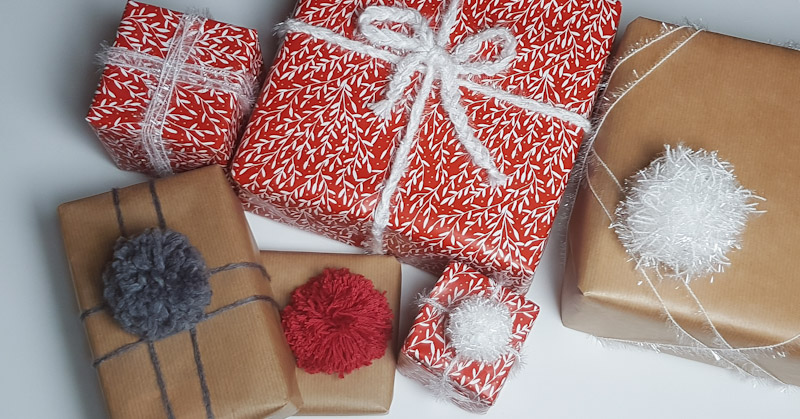 Christmas is knocking on the door, and for many of us it means hand knitting and crocheting Christmas presents. I sure have a few projects in mind that I hope my family and friends will appreciate! But it is not only the gifts that you can crochet or knit, you can actually decorate wrapped gifts with lovely yarn embellishments.
A beautifully wrapped Christmas gift should definitely not be underestimated!
I absolutely love the handmade look, so I have made a few quick decorations that can elevate the wrapping to something very special! Whether you prefer to wrap your gifts in magnificent and glossy Christmas paper, or you're mostly into the neutral and calm colors, you can use a homemade yarn trimming and your gift will become completely unique. Keep reading to see a few of my ideas for nicely wrapped gifts. I hope they can inspire you 🎁
Yarn as a gift ribbon
I do not use gift ribbons, but instead I use lots and lots of yarn. You can use yarn as a gift ribbon to make the prettiest patterns on any kind of gift wrapping paper. I'm crazy about Christmas, so I do not skimp on the classic Christmas colors like red and white! You can use any colors you want. Match the yarn to your favorite gift wrap to express your own unique style.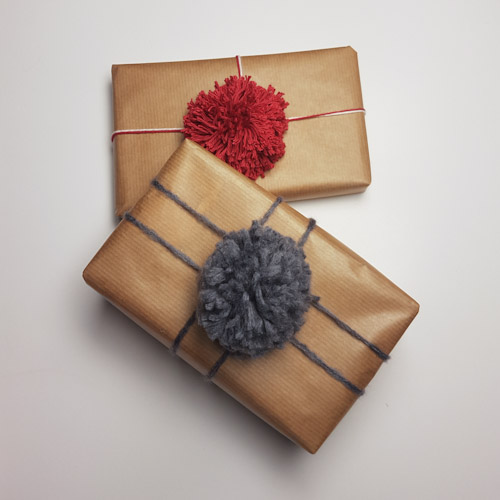 I used the yarn to make a geometric pattern that really makes the neutral brown paper look very festive!
Pom poms instead of bows
When I was a kid I used to make piles of these pom poms! I absolutely adored them! However, it has been many years since I last made one. But that's over now, because they are perfect for a gift with ''yarn ribbon'' 😉 I replace the bow from the gift ribbon with the pom poms. You can sew them onto the yarn ribbon or give them a little blob of glue before attaching them.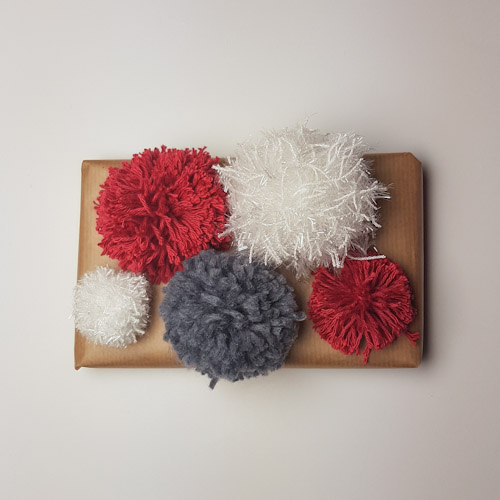 The pom poms are quite easy to make. You can use a piece of cardboard in the size you want the pom pom to be (in diameter), or as I did for the little ones, a fork. I made a small image tutorial showing the process: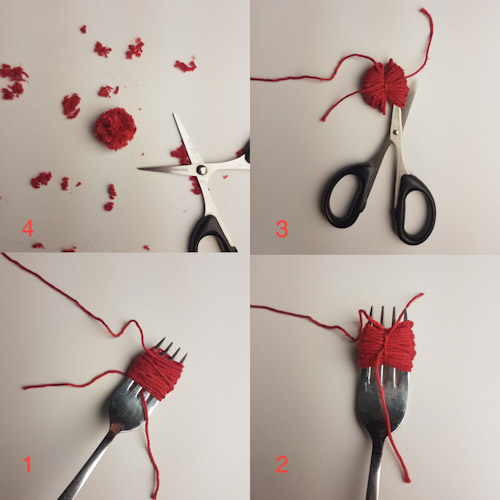 The image guide shows you how to start at the bottom left corner and end at the top left corner. Crucial to the technique is that the pom pom is "trimmed". That's what creates the fluffy look. You can also use a piece of cardboard to make the slightly larger pom poms. It is important that there is a hole/crack in the cardboard where the loose string can go when the yarn needs to be tightened.You can see above how I use the fork and the gap between two teeth. But if you don't want that hassle, use a template designed for pom poms - buy it here
Braided yarn and large ornaments
I have braided the yarn to make a chunky and thick gift ribbon and then tied a large and simple bow which is easy to untie.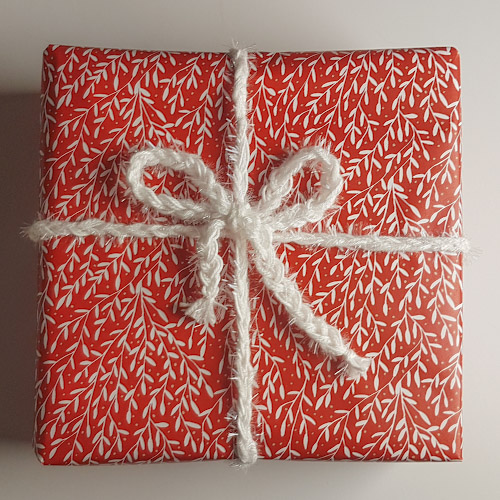 I have braided the ribbon from 3 different types of yarn. I have used Rainbow Cotton , Tivoli Acrylic and Lamé Madeira Effect Yarn - together they create the most gorgeous effect. All the strands are doubled to make the braid as big as possible. You can also try making a row of chain stitches instead of braiding. I tried that too, and it looked super cute for the slightly smaller packages - especially if you make a small pom pom for the top 😉
I hope I have inspired you to make your own beautiful yarn embellishments 😍🎄☃️
Love
Josefine, Hobbii