Christmas isn't just something to be celebrated at home. With our new collection, you can now wear the Christmas cheer and bring it with you to work, to the grocery store, to a café, to a party…
But, you'll have to get cracking soon to make it in time for Christmas! 🎅
First step? Deciding which one(s) to make!
The patterns here are all designed by different talented designers we collaborate with. So, there's sweaters in many different styles and both for crocheters and knitters. There's something for the little ones too! 👼
I'm sure you'll find a design (or two, or three…) that tickles your fancy.
The one with humour (knit and crochet)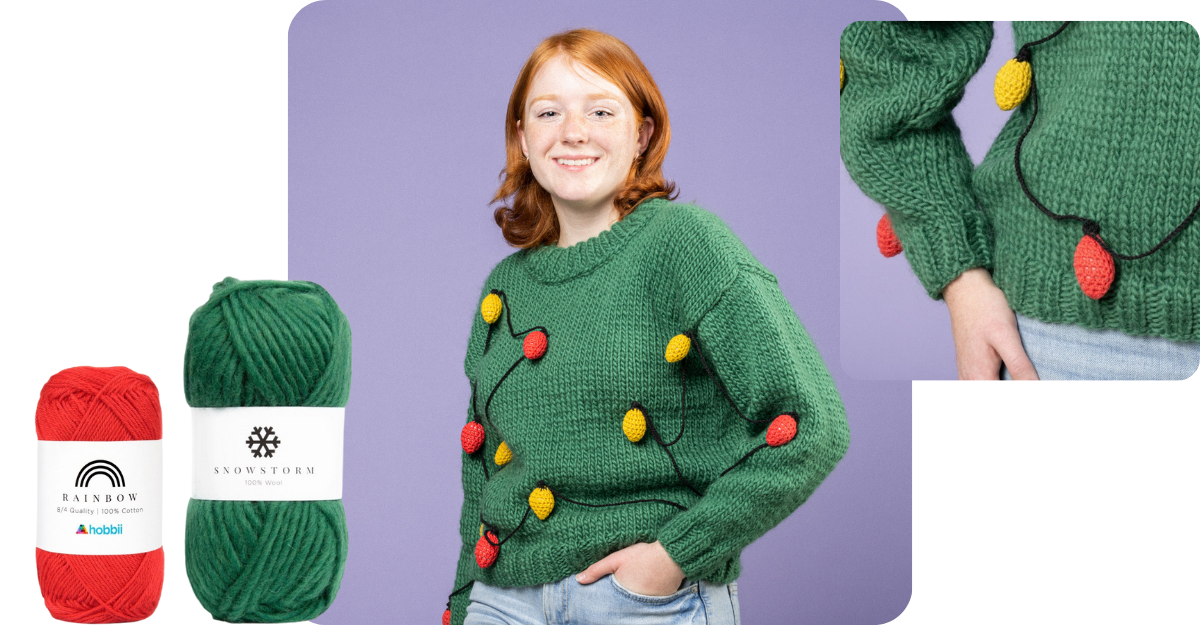 Are you looking to infuse some more laughter into christmas? Then this is definitely the one for you. The Merry Sweater is a great interpretation of what a christmas tree would look like if you literally wore it 🎄
The sweater is constructed on straight/single pointed needles and in separate pieces that are then joined, making it beginner friendly.
Yarn: Merry is knit with the lovely chunky Snowstorm made of 100% wool while the Christmas lights are crocheted with Rainbow Cotton 8/4.
Meet the designer: With a great deal of humour and whimsy, Knit Gang's beautiful designs really stand out in the sea of beige vests and stockinette stitch sweaters.
If you've fallen head over heels for this sweater, I'm sure you'll also love the unique Sheepy intarsia-sweater, and the Rowan Sweater, that take texture and visual impact to a whole new level ✨
TIP: Play with the colours of the string lights and place them however you fancy, making it completely your own.
Download the pattern for the Merry Sweater here
The romantic (crochet)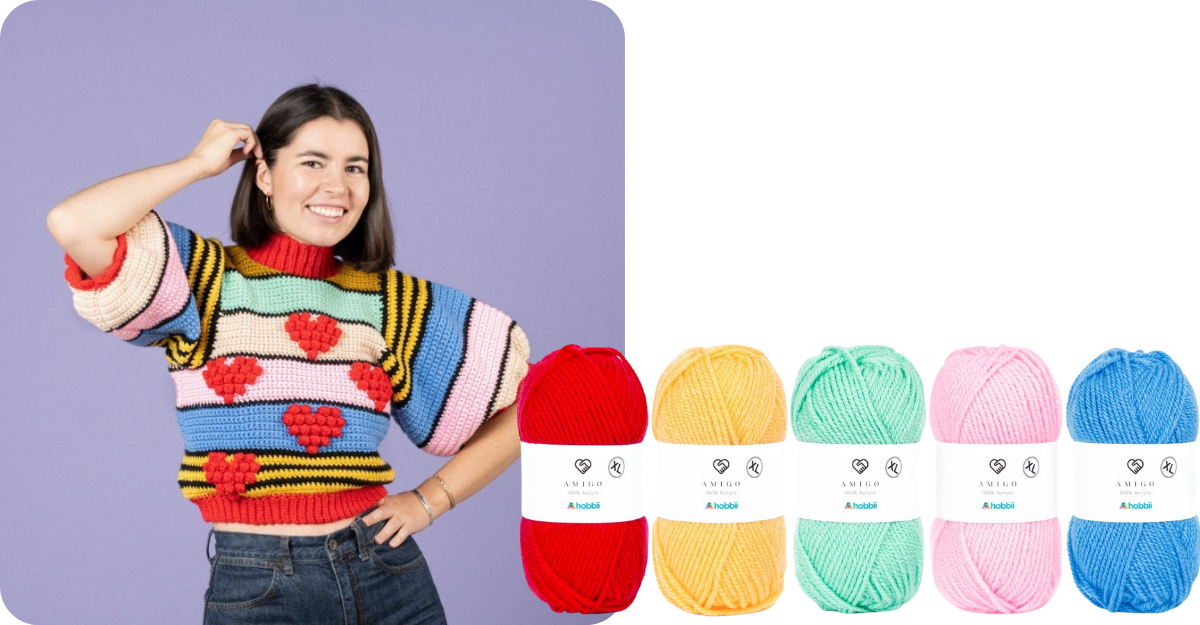 In Denmark, the saying goes: "Julen er hjerternes fest", or: "Christmas is the party of hearts".
In other words, it's all about love 💗 Celebrate Christmas love with this amazing crocheted sweater that combines decorative hearts in a classic red with lovely pastels for a fresh playful look.
The sweater features a cropped fit and short sleeves but also lots of volume, texture and warmth. Perfect for Christmas!
Yarn: Does wool make your skin itch? Look no further. This sweater is made with Amigo XL, a colourful yarn made of the softest, high quality acrylic. Immensely soft and itch free.
Meet the designer: Laura Hjertefryd has a special talent for playing with colours. If you take a look at her Instagram, you'll quickly notice her ability to combine pastels with vibrant colours, making them look like they're simply made for each other.
TIP: If reds, whites and greens are more your Christmas pace, then go right ahead! Amigo XL comes in lots of nuances, so there's plenty of room to design the colour scheme of your dreams.
Download the pattern for the Heart on Crop Sweater here
The "they're with me" sweater (knit)
Ever had a dream of showing up with your friends or family in matching outfits like a jolly Christmas gang? Perfect! This one comes in adult sizes (mens' XS to 2XL) and childrens' sizes (4, 6, 8, 10 and 12 years) so you can match with your best buddy, significant other or all your mini me's.
Yarn: The Julius Sweater is made with Malaga a yarn of 100% hi-bulk acrylic. This oh-so soft yarn is lightweight but warm and has a special structure making it more breathable than traditional acrylics.
Meet the designer: Sanna, also known and Soolorado, definitely knows how to make amazing textured knit patterns. In fact she's made quite a few for Hobbii (check them out here!). This time she's ventured out into colour play and we absolutely love the outcome!
TIP: This sweater is made with colorwork, as you'll change colours throughout the rows. It seems more difficult than it is, I promise. However, if you haven't done colorwork before, I'd advise you to make some swatches before you start to get a more even gauge.
Download the pattern for the Julius Senior Sweater here and for Julius Junior here
The modern retro (crochet)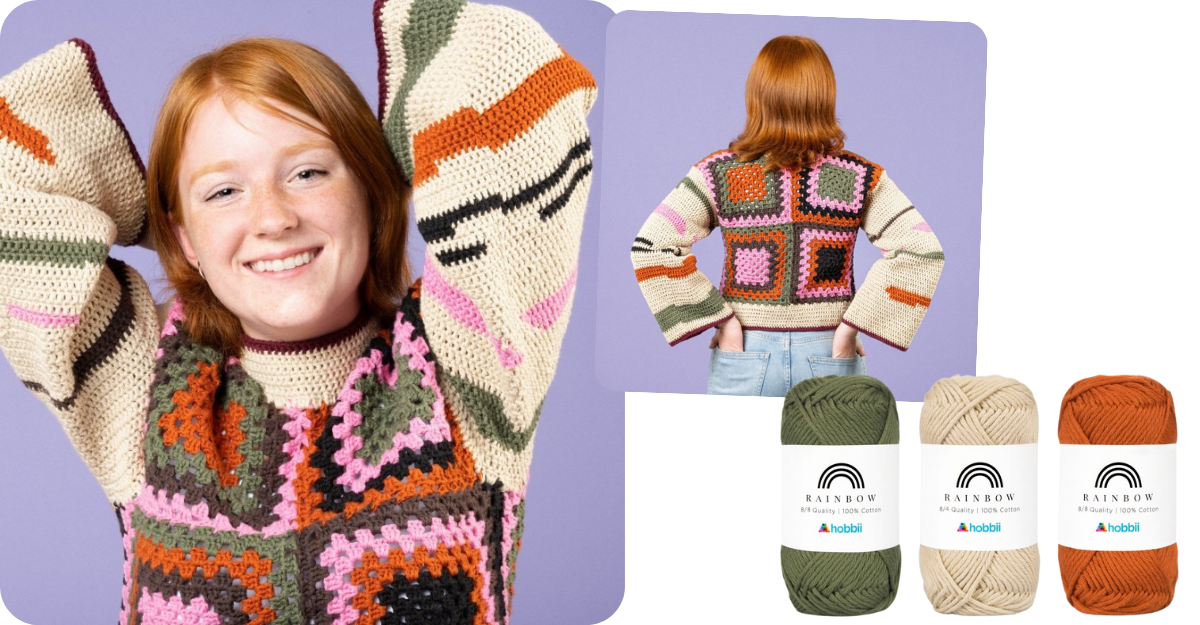 A Christmas sweater doesn't have to be literal. With a focus on coziness and comfort, this sweater gives Christmas fashion a modern retro twist in the shape of granny squares.
Yarn: What better yarn to make granny squares than pure cotton? The Noona Sweater is made with Rainbow Cotton 8/8. A pure cotton yarn that comes in 100 different colours!
Meet the designer: The talented designer behind Tarda Studio has, time and time again, impressed with beautifully designed crochet hats. For this collection, she's ventured out and made a gorgeous christmas sweater that - just like the hats - exude modern retro.
TIP: Tarda Studio advises you to make the sweater a size bigger if you'd like to go for an oversized look.
Download the pattern for the Noona Sweater here
The one one that goes with everything (crochet)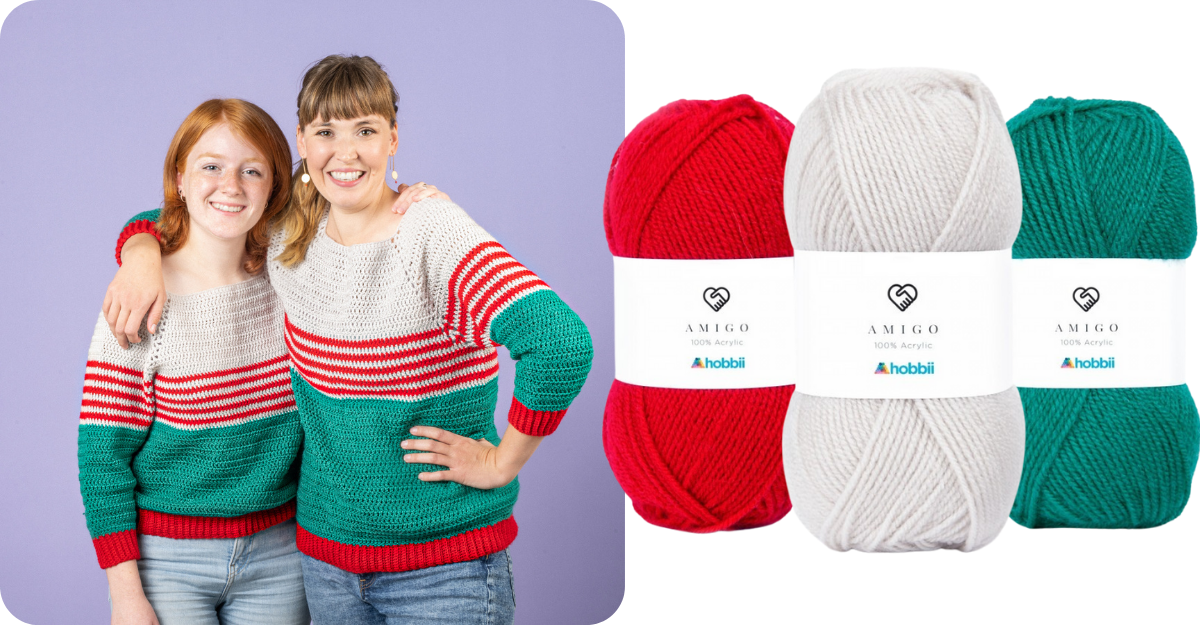 Need something that you can wear on an everyday basis? This one is definitely it! The comfy shape and simplistic striped pattern makes this easy to pair with anything and wears well all day long! The sweater is a raglan and very beginner friendly too!
Yarn: Santa's Helper is crocheted in Amigo, a less chunky version of Amigo XL. This makes it perfect for layering without having you break into a sweat.
Meet the designer: Santa's Helper is designed by Catalina Ungureanu, one of our longtime and most loved collaborators. Catalina has a gift for creating crochet designs with lovely shapes and drape. Find more of Catalinas patterns here.
Download the pattern for Santa's Helper here
The classic (knit)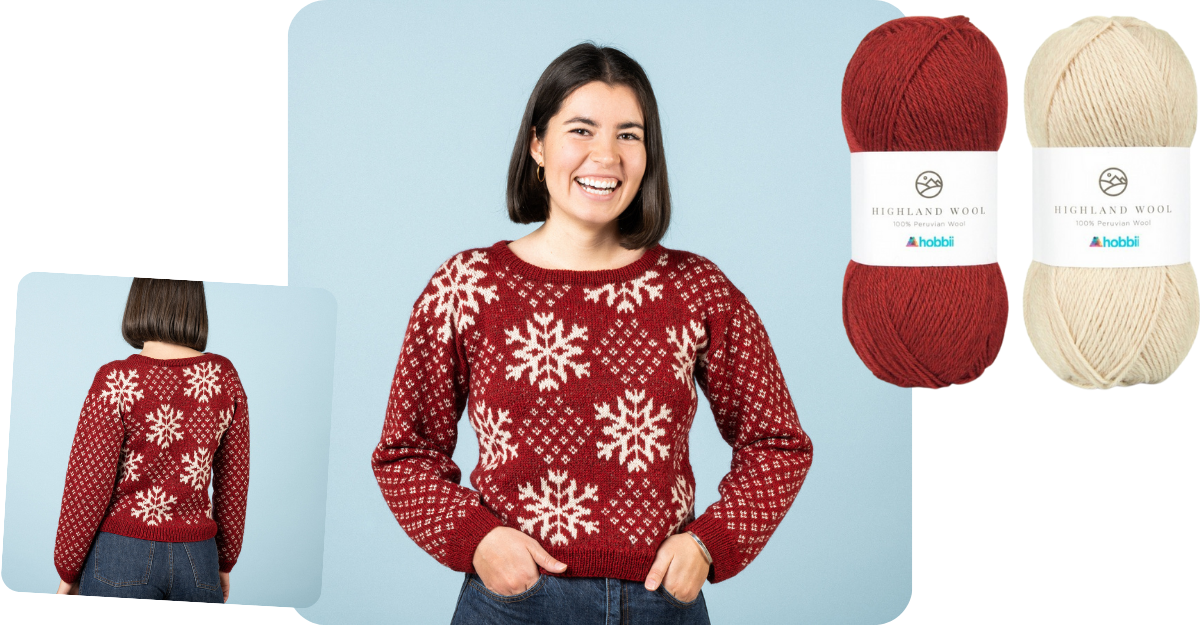 If the classic Christmas sweater has a special place in your heart, then hurry and get the knitting needles out. This one truly embodies classic Christmas and will be the envy of everyone around you.
Yarn: The Scarlet sweater is made in Highland Wool, a lovely yarn made of 100% wool from the peruvian highlands. Highland Wool is exceptionally durable. So this is the one to go for, if you're looking for a sweater that will last Christmas after Christmas.
Meet the designer: The pattern is created by Sys Fredens, our very own in-house designer. Sys has a remarkable talent for creating true knit classics that may last in your wardrobe season after season. Check out all our patterns made by Sys Fredens here.
Download the pattern for the Scarlet Sweater here!
So, ready to get started? Let us know which one you'd like to make in the comment section below! 👇