You probably know this scenario?
You have found a really pretty pattern that you want to make, but the pattern is in another language and the yarn that you need is not sold in your country.
Or perhaps you have found a pattern among your grandmother's old pattern collection, and the yarn you need is no longer in production.
Perhaps you are just a bit adventurous and you want to make a pattern in another yarn than what the pattern suggests.
All these situations have the same thing in common: you have to find an alternative to the yarn mentioned in the pattern, and that is not always easy – but have no fear! In this post and other upcoming posts, I will introduce you to the fabulous world of various types of yarn and explain the advantages and disadvantages of each type of yarn. I will also explain what the various types of yarn can be used for
Yarn from natural fibers
The most known type of yarn in this category, is yarn made of sheep wool. Sheep wool has a lot of great qualities, but it is unfortunately also known for being a bit scratchy. In this blog post, I would like to disprove this notion since it all depends on what kind of sheep the wool is taken from, where the wool is placed on the sheep, and also how the wool is processed.
Sheep wool has quite a lot of natural advantages that you can enjoy. It will keep you warm, but it is also breathable and can absorb up to 35% of moisture without making you feel cold or wet.
Sheep wool is temperature regulating which ensures that you do not overheat. This also makes 100% wool perfect for babies and smaller children since they are not yet able to regulate their body heat.
However, for some people sheep wool is not an option. The wool contains a substance called lanolin, which makes the wool dirt- and water repellent, and some people can be allergic to this substance. Later in this blog post, I will discuss the alternatives for this group of people.
If you want 100% wool that does not scratch then wool from the Merino sheep is an amazing choice. The structures of the fibers ensure that the wool is delicate and soft, and since the fibers contain a large amount of air, it makes the material lightweight while it also has an incredible heat capacity. These characteristics make merino wool perfect for next-to-skin clothing such as baby clothing and underwear.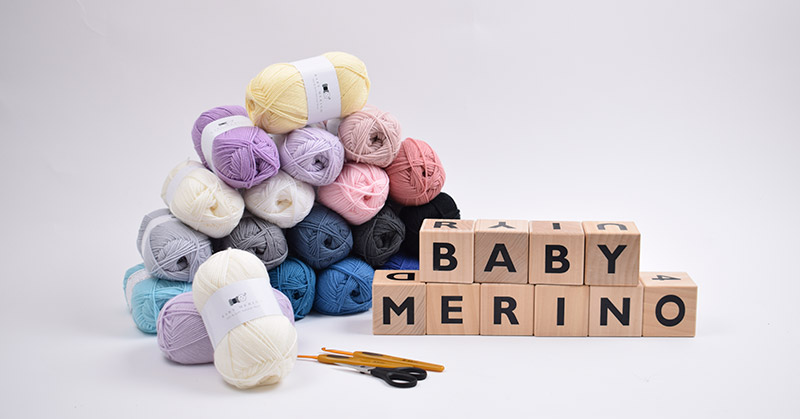 Merino is often used for sports wear since it transports sweat, it is breathable and it is able to absorb a large amount of moisture without making you feel cold.
Merino wool is perfect for us here in Scandinavia. During winter it keeps us warm, but did you also know that merino can be used during summer? Since the wool is lightweight and has an ability to regulate temperature it works really well for summer clothing such as cardigans or blouses.
This wonderfully soft wool can be used for almost anything your heart desires. It can keep the little ones warm, but it is also good for blankets for the entire family, or what about a bit of knitting /crocheting for yourself? Merino gets an extra luxurious look, if you combine it with a thread of mohair.
Mohair consists of thin, smooth fibers from the Angora goat which is gathered in one thread by spinning it together with another fiber such as e.g. wool, polyamide or silk. Here at Hobbii all of our mohair products are spun with silk.
The delicate, loose fibers provide the yarn with an incredibly high insulation ability and heat regulating benefits while maintaining a fluffy look even after it is dyed. It is this fluffy look that makes mohair so luxurious.
As I wrote earlier, mohair is often used as an accompanying thread combined with other yarns, but it can also be used by itself for e.g. a light summer cardigan, or perhaps a wonderful shawl for chilly summer evenings?
Alpaca yarn is spun from wool from the alpaca whose undercoat is very attractive in the yarn industry due to its softness. Alpaca yarn is also a very good alternative to sheep wool for people with allergy. Not only is alpaca lanolin-free, it is also completely free of chemicals while having the same benefits as sheep wool. It can keep you warm, but it is temperature regulating so you will not sweat, and then it can also be used for summer clothing.
However, you have to be aware that alpaca yarn does not keep its shape as well as other yarns. Thus, alpaca is often combined with other fibers such as sheep wool, so as an allergy sufferer you have to read the yarn label carefully before starting your next alpaca project.
Baby alpaca yarn is even softer since it is taken from the first shearing of the alpaca baby. You may want to try Soft Alpaca.
Back in the days silk was reserved for the nobility and the upper class of society, but today, luckily, it is a luxury available to all of us.
Silk is spun by the mulberry butterfly cocoon and it results in a rustic yarn that does not shrink. The silk fibers are often combined with other fibers such as alpaca and mohair to make it softer and more heat insulating. This makes silk yarn useful for both summer and winter projects.
Silk is also a great alternative for those who suffer from allergy.
The latest addition to the family of natural fibers is milk yarn.
It might sound a bit hocus pocus that the yarn should be made from liquid milk, but you actually get some of the softest yarn you can imagine.
Milk yarn is made from milk proteins which are extracted by dehydrating the milk during heating and skimming it when it thickens. To ensure that the fibers stay strong and durable, the yarn is treated with the chemical zinc oxide since milk is a biological material. Not only does zinc oxide keep the fibers strong, it is also an antibacterial enzyme that has a healing effect on wounds and eczema. This makes milk yarn very attractive for allergy sufferers.
"The most amazing yarn ever. I have an adult daughter who suffers from (infantile) eczema. This yarn keeps her warm when it's cold, but it also cools her down when it's hot. The best thing about the yarn is that it makes her skin feel completely calm. That's pure magic".
– Review of Cream from Viking yarn by Mette L.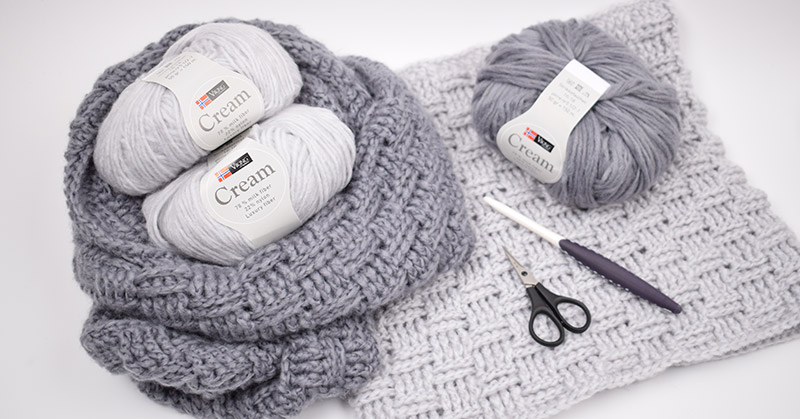 Common for all the natural yarn is that it is delicate when it comes to being washed. Some types of yarn are superwash-treated which means that they are machine washable at 86℉ (30℃), preferably on a wool program, but if you want to be completely safe, then you should hand-wash your project. If you wash wool at temperatures too high on a normal program, you risk destroying the structure of the fibers and thus shrink your project.
It is always a good idea to dry the finished project laying flat so you do not stretch your project out of shape due to the remaining water inside the fibers after a wash.
I hope that you think this has been an interesting journey through all the different types of yarn available in this category. I think it has been really interesting to inform you about them, and I look forward to starting the next chapter about plant based fibers.
Please comment below what types of yarn you prefer to use and whether you have become inspired to work with yarn you have never worked with before 👇 I am curious about using an accompanying thread of mohair.
Love
Eva, Hobbii